A collaboration between the Government House Foundation and the Maritime Museum of BC, the Lieutenant Governor's Award for Maritime Achievement will replace the annual S.S. Beaver Awards for Maritime Excellence, that have been awarded for the past 10 years.
This new award will recognize and acknowledge individuals and organizations along BC's coast and inland waterways who have made noteworthy contributions to BC's maritime interests in the areas of science, technology, business, applications of maritime skills, nautical heritage and culture, art, and academic endeavours. The expanded scope of the award will also recognize Indigenous and traditional practices, environmental stewardship, and ensure diversity in nominees, recipients, and award administration.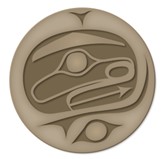 A unique award medallion featuring the artwork of Nusi Ian Reid, a member of the Heiltsuk Nation in Bella Bella, will be awarded to each recipient.
"It is my great honour to champion the Lieutenant Governor's Award for Maritime Achievement," said the Honourable Janet Austin, Lieutenant Governor of British Columbia. "For thousands of years, Indigenous peoples have lived with respect in this beautiful and abundantly resourced region, mastering marine resources and developing distinct watercraft to skillfully obtain food and travel. Today, along with the continued stewardship of Indigenous peoples, the waters along our coast support many vital industries, international trade, and recreation and tourism. I am delighted for this opportunity to celebrate excellence across all kinds of marine-based industries, and share my gratitude to the Maritime Museum of British Columbia and the Government House Foundation for their support of this important recognition."
Inaugural nominations for the Lieutenant-Governor's Award for Maritime Achievement are now open here. Nominations will close September 30, 2023. The first awards will be presented at a ceremony in November.
Award steering and selection committees comprised of members of the Government House Foundation, Maritime Museum of BC, representatives from the broader community, and professional mariners will administer the award.
Learn more about the Lieutenant Governor's Award for Maritime Achievement.