Government House
In order for the grounds to remain open, we must continue to follow relevant COVID-19 public health directives. The health and safety of our staff, volunteers and visiting public is of the utmost priority, and thus we have added the following additional measures:
The Bruce Pavilion is closed in order to prevent gatherings of any kind.
Social gatherings of any size are currently not permitted on the grounds.
If you visit the Government House grounds, your party may only comprise members of your immediate household or core bubble.
There will be increased on-ground patrol by security and staff with the view of discouraging gatherings.
On Tuesdays and Thursdays, rain or shine, the Friends of Government House Gardens Society volunteer their time to maintain the splendor of grounds and gardens on the Government House estate. For the safety of our volunteers and visitors, the following precautions have been put in place:
Between 9:00 am and noon, there may be reduced access to some areas of the grounds in order to facilitate social distancing.
Signage will be posted to restrict access to these areas.
Visitors are asked to obey all signage.
We ask all visitors to familiarise themselves with our other rules and policies:
Do not visit the grounds if you are feeling unwell or exhibiting any symptoms of COVID-19.
Maintain social distancing from all other visitors.
Government House does not take bookings for space usage. Grounds are to be enjoyed on a "first come first served" basis, but any such use cannot impede the enjoyment of other patrons.
Formal ceremonies, such as weddings or celebrations of life are not permitted to take place on site. At this time, we discourage any onsite group or ceremonial photography.
Government House does not permit the importation and use of outside furniture; this includes barbeques and propane fire pits. The only exceptions are for portable/collapsible chairs that are not affixed to the ground or structure.
Any amplified sound and/or other noise that may disturb or impede the enjoyment of visiting patrons or neighbours is not permitted.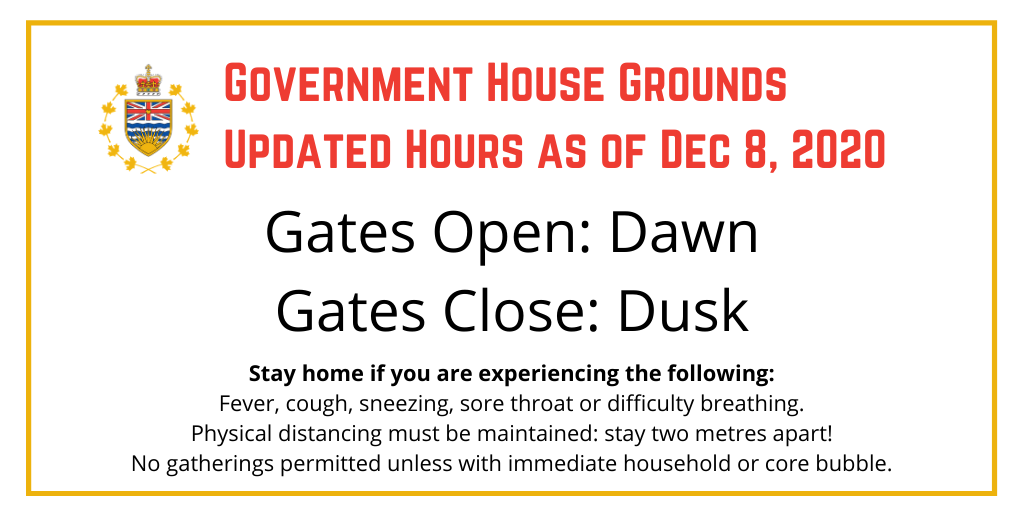 Government House is the office and official residence of the Lieutenant Governor and the ceremonial home of all British Columbians. The Honourable Janet Austin opens her doors all year to host celebrations, convene thought leaders and offer local residents and international guests with the opportunity to visit the beautiful gardens and attend tours.
The house is located on the traditional territory of the Songhees and Esquimalt First Nations, in the heart of the Rockland neighbourhood in Victoria, British Columbia.
The gardens are free to visit. Rudi's Tea Room is closed for 2021 due to ongoing renovations in Government House.
It's a 20-minute walk or a five-minute drive from downtown. Free parking is available onsite. Buses on Victoria Regional Transit routes 11 and 14 stop on Fort Street at Joan Crescent, three blocks from Government House.
Please note: In accordance to Clean Air Bylaw No. 3962 it is prohibited to burn or vape any substances, including cannabis, on the public grounds of Government House. This policy includes the Woodlands and all lawns and gardens.