Earlier this month, we hosted the ninth annual Trust for Sustainable Living (TSL) International Schools Essay Competition and Debates, bringing together a keen group of students from all over the world for debate and discussion on sustainability, conservation and saving the environment.
This year's theme was "Life on Land", inspired by the United Nations Sustainable Development Goal #15, in alignment with Stewards of the Future, a priority program of the 29th Lieutenant Governor, the Honourable Judith Guichon, which focused on land stewardship.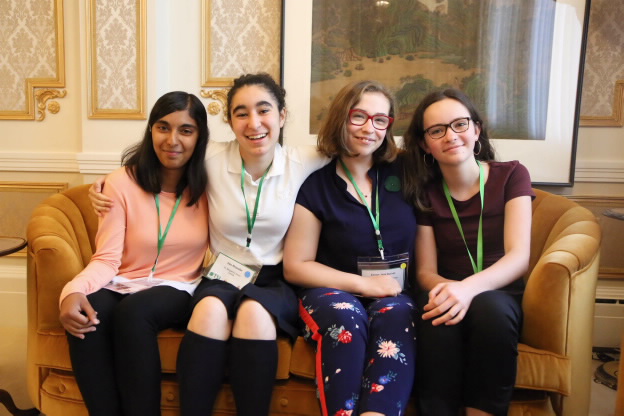 Ines, a student from British Columbia and participant at TSL, took part in Stewards of the Future through her school's Green Club. This year their focus was on bees—meeting with bee keepers, visiting a bee farm and learning what kind of native plants to grow around campus to attract local bees. She was excited to learn about environmental initiatives taking place in other countries and is looking forward to taking back ideas from other schools to her own, sharing details on a waste sorting project she'd heard about.
Sapna, a student from South Africa and TSL essay champion, cited the debates as her favourite experience at TSL, even though it meant taking on some new experiences:
"I was quite nervous," she said, "but then afterwards I felt a sense of accomplishment. It stretched me to think of new ideas, to connect what's happening in this world and think quite deeply about how to create solutions. I looked at what my school was doing and tried to connect those pieces."
She also left Government House feeling inspired. "Before this competition, I wasn't aware that youth could do so much, that we actually have power! Our Eco Club can spread the message that youth have influence, we can influence our parents, that we can start projects and campaigns."
"It was amazing to meet people from around the world and get a sense of their perspectives." Said Cailtin, a British Columbian student. She was especially keen on adding contacts to an online messaging group, set up to share information and ideas amongst her new friends from the conference.
Emma, a student from British Columbia, was also enthusiastic at having the world open to her at TSL: "It was really cool to share these experiences together. I'm going to bring the global aspect back to my school, share what they're doing in places like Serbia and South Africa."
The spirit of collaboration, joy of new friendships and a common goal in doing the best for the environment brought Ines, Emma, Caitlin and Sapna together at Government House. Their collective message to their classmates, parents and communities is simple: that we are all citizens of the earth who share responsibility for each other and for the planet, and that we must act accordingly.
We need the voices and leadership of youth more than ever, which is why I am thrilled to launch the LG Youth Advisory Council, a group of 12 young people who will advise me on relevant issues impacting them and identify ways to engage the next generation of British Columbians. If you know anyone who might be interested pleasure encourage them to apply. You can also help by sharing the application on Facebook or Twitter.