Last week, Canadians marked the one-year anniversary of the World Health Organization's declaration of the COVID-19 pandemic. Over the past year, people have come together to support each other in inspired ways, but many other lives have been irrevocably changed. With the closing of businesses, some temporary and others sadly permanent, many Canadians have found themselves out of work. With the struggle of economic uncertainty and the constant churn of the pandemic placing new pressure on our lives, challenges that have always existed in our society have only worsened further. This is especially true of food insecurity, as more and more people are confronting unreliable access to affordable food as they try to keep the plates in front of them and their families full and nutritious.
Through years of experience working with the YWCA Metro-Vancouver and other non profit community support organizations, I observed how food security, so often invisible in our communities, is a long-existing vulnerability for many, and realized this would be an early challenge of the pandemic. Given the access to space and gardens at Government House, I launched the Victory Over COVID-19 Garden, inspired by the Victory Gardens planted across Canada during WWI and WWII. Through partnerships with local organizations, produce grown in this garden provided fresh food to the most vulnerable in our communities at a time when this need was true for more people than ever.
Throughout the past year, the Victory Garden flourished under the care of the talented Willow Kaukanon, whose efforts resulted in an incredible yield of more than 2,000 pounds of food. A diverse array of vegetables, including kale, chard, beets, tomatoes, carrots, lettuce, garlic and more, were harvested and distributed. This was made possible through the partnership and generous assistance of the Food Share Network, a local resource working in collaboration and cooperation among food banks, community centres, donors and other participating organizations.
Moving into 2021, the Victory Garden is transforming again. While it will continue to produce crops until the end of summer, the Friends of Government House Gardens Society, whose diligent volunteer work helps to maintain the grounds and gardens, will be working to adapt the space anew. The Friends' own longstanding vegetable garden continues to yield food, with a portion set aside for donation here in Victoria.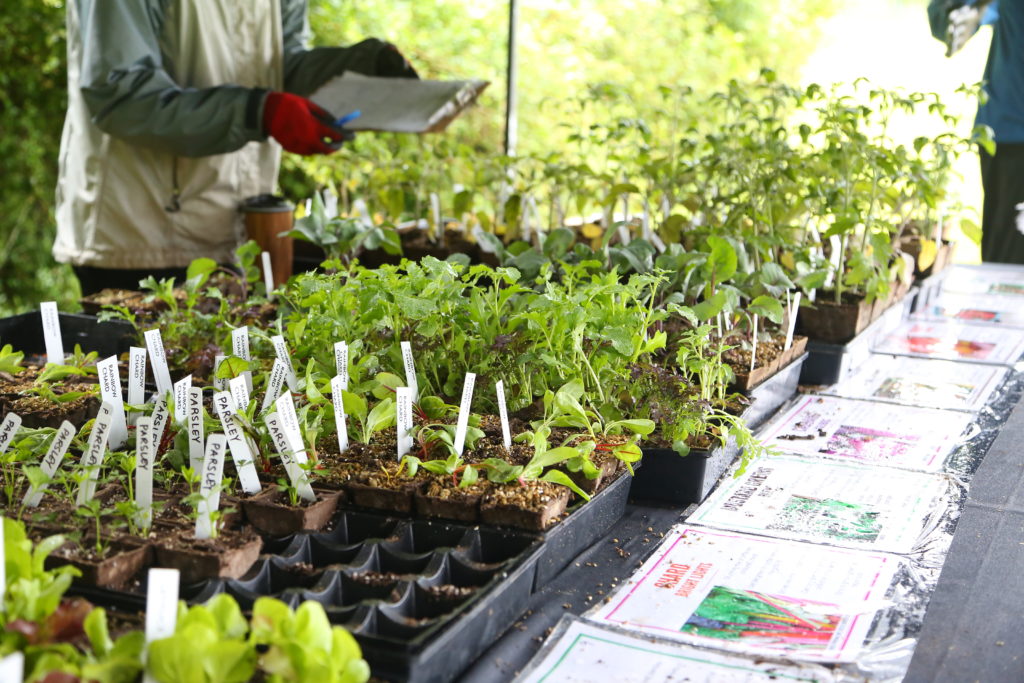 An innovative aeroponics pyramid garden, developed and maintained by Allan Murr, will further contribute to Government House's donations, with thousands of plants being grown for the Food Share Network. There are some clear advantages to growing food in pyramids: it requires a much smaller footprint than a regular garden, there's minimal waste in regards to packaging, and the comparative freshness to "end of shelf life" donations means the best possible product is shared with the community.
This season, Government House will continue its partnership with the City of Victoria's Get Growing initiative. We hosted Get Growing's seedling distributions last summer and similar plans are afoot for 2021, with distribution dates in May and August. "It has been very encouraging to see the enthusiasm [about Get Growing] from stakeholders throughout the region, who are coordinating resources and expertise to help citizens learn about growing healthy food and support organizations providing services to vulnerable residents," says Thomas Soulliere, Director of Parks, Recreation and Facilities for the City of Victoria.
We are thrilled that the Growing Young Farmers Society will be returning to Government House with their popular summer camps. This program brings young people to the grounds for hands-on education in gardening, with an emphasis on the importance of local, organic and sustainable food, and an awareness of the origins of food, from seed to final product. This program is so important to improving food security literacy and building a strong community of active gardeners who can continue to give back in their neighbourhoods.
We can all do our part to support food initiatives, whether buying local at the grocery store, visiting farmers markets or subscribing to Community Supported Agriculture (CSA) food boxes. As we move toward a post-pandemic world, I am grateful that the work being done at Government House will continue to address the challenges of food insecurity in our communities. Seeing the young participants in Growing Young Farmers work alongside the state-of-the-art aeroponics pyramid gardens, in tandem with the ongoing and always appreciated efforts of the Friends of Government House Gardens Society, I feel a renewed sense of optimism for our collective future, as abundant as the fast approaching bloom of spring.