Willow Kaukanon has many years of farming under her belt but in her role managing the Government House Victory Over COVID Garden, she's encountered a new experience: frequent conversations.
"Normally as a farmer, you're alone in a field," Willow explains, "it's quiet, you're plugging away. But here at the fence line, people stop all the time to chat and ask questions."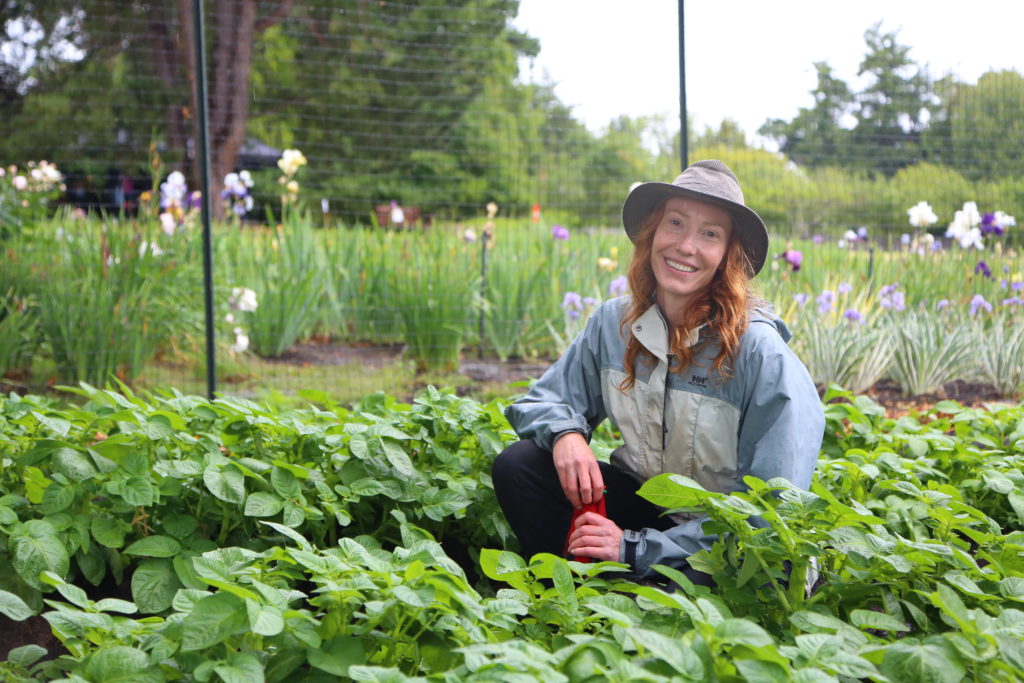 The Victory Over COVID Garden is located in a sunny corner on the Government House grounds, en route to the Cary Castle Mews and Rudi's Tea Room. It's an ideal spot for a vegetable garden, south facing with plenty of sunshine, even if the wind off the Juan de Fuca strait can be a bit gusty.
The garden, inspired by the Victory Gardens planted across Canada during the First and Second World Wars, aims to provide fresh food to the most vulnerable in our local communities. In mid-April, Willow joined the project; a week later, ground was broken and compost laid. From there, the soil was tilled, irrigation installed and the first crops began to sprout by mid-May.
Willow got her start in farming when her and her partner transformed an acre of hay field in Cobble Hill into a vegetable garden. They sold their wares at a few markets a week, added lamb, chicken and rabbit, and hosted WOOFers (travelers who work on farms in exchange for room and board). Edible landscapes are something about which Willow is passionate.
"Food is community," Willow says, "the importance of growing local is high on my priority list. With all of the weather effects happening around climate, the need for shipping and fuel— I think it's important to transform some of our green spaces to produce food for ourselves and for our neighbours. This garden is 2500 square feet and we're feeding multiple families. If you had even a quarter of this, you could feed yourself and your neighbours."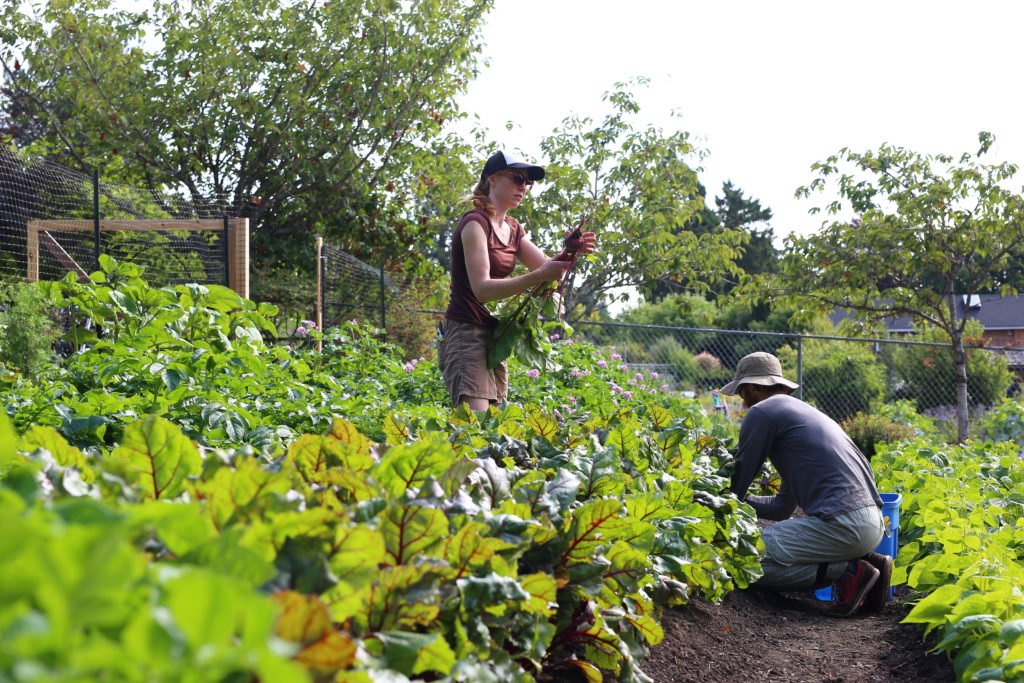 So far she's pleased with the successes of the Victory Over COVID Garden. There's a distinct lack of pests, due to the manicured nature of the Government House grounds, and the care they've taken with preparing the soil has yielded fantastic results (she cites a recently harvested gigantic beet as a particular point of pride).
Willow comes by three days a week to do a little upkeep and future planning, but aside from a few extra hands on harvest days, she emphasizes how little is required once the garden is established. She guesses the Victory Over COVID Garden will yield at least a few thousand pounds of food this season (a particularly bushy patch of potatoes produced 435 pounds of spuds alone). Winter will bring a new cycle of crops, such as broccoli, kohlrabi, leeks, garlic and beets.
Willow encourages those interested in starting their own edible landscapes to check out Get Growing Victoria, a City of Victoria-led initiative supporting community resilience, food security and learning how to grow food at home. Even if you're not looking to feed a family with your plot, the benefits of gardening can go beyond COVID.
"It's good for mental health too," Willow says, "Getting yourself out into the soil, tying yourself to the cycles of what's going on. It can connect you, make you feel more grounded and in tune with what's here now."
While the Victory Over COVID Garden is currently producing bountiful harvests, Willow stresses it's important not to forget that food insecurity existed before COVID: "It will continue to be here after this wave and the next."
We can all do our part by becoming involved in local food. Can't grow your own? Find out ways to support local farmers and producers: shop at farmer's markets, look for local in the grocery store, or join a CSA ("Community Supported Agriculture", a subscription service that delivers fresh produce directly from the farm to your door). Luckily, in this summer of staycation, going as local as possible feels like the most natural thing to do.