The theme for the 2021 National Volunteer Week is "The Value of One, The Power of Many", and the Office of the Lieutenant Governor is highlighting the volunteer work of our partners. Hononary Aide-de-Camp David Valentine shares his experience volunteering, and why everyone should consider donating their time to good causes.
David Valentine's volunteer work has been a constant throughout his life. He first fell in love with volunteering as a youth member of St. John Ambulance, an organization with ancient roots that provides first aid and CPR training, and community service. As a 12-year old, David wanted to join a program that required first aid certification. Being from a large family, his parents couldn't afford to pay for the training; in joining St. John Ambulance, he got the skills he needed, and a taste for volunteering that would last a lifetime.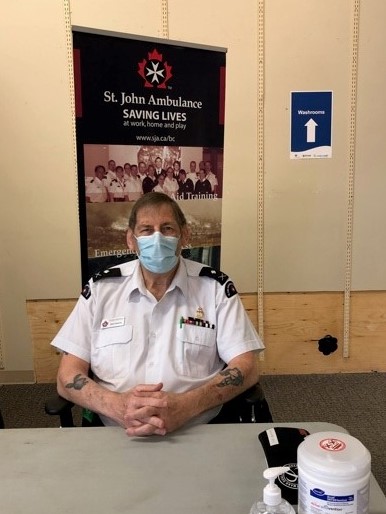 In fact, David loves working with St. John Ambulance so much, he's now the provincial commissioner for British Columbia. His other volunteer experience spans membership in the Rock Solid Foundation, the anti-bullying initiative WITS, and the Paul Valentine Foundation, formed in memory of his son, which included fundraising basketball tournaments targeting bullying and violence. He also goes wherever St. John takes him, including supporting BC Ambulance and Canadian Blood Services, and at events throughout the province. David has also served as an Honorary Aide-de-Camp to four different Lieutenant Governors; Aides-de-Camp are military or civil officers in uniform, acting on a volunteer basis, who mark the official status of The Queen's representative and accompany the Lieutenant Governor to all official engagements.
These days David can be found working with the Ministry of Health and Health Authorities via St. John to provide support at various sites related to COVID-19. He helped team set up and coordinate various centres for those isolating, including refugee claimants doing their two week quarantine upon arrival to Canada, and for Canadians returning to the country. "St. John's is all about this year's Volunteer Week theme, the value of one, the power of many," David says. "I've got people traveling around the province to help out—it makes my chest swell with pride to see all these wonderful volunteers stepping up in their own community or another. Their hands are up and they're on their way. I'm very proud of all of them."
Most recently David drove a truck full of equipment and supplies to Fort St. John to assist in setting up a vaccination site. He also provided first aid support for post-vaccination incidents, at the ready in case of anaphylactic shock or a panic attack from fear of needles. He wanted to be an example to the volunteers he'd been training for the past few months, but in the end, he was an example to all who came to be vaccinated: "Almost 100 percent of the people that were vaccinated thanked my partner and I for being there. It felt like I was doing something, even though we were mostly observing."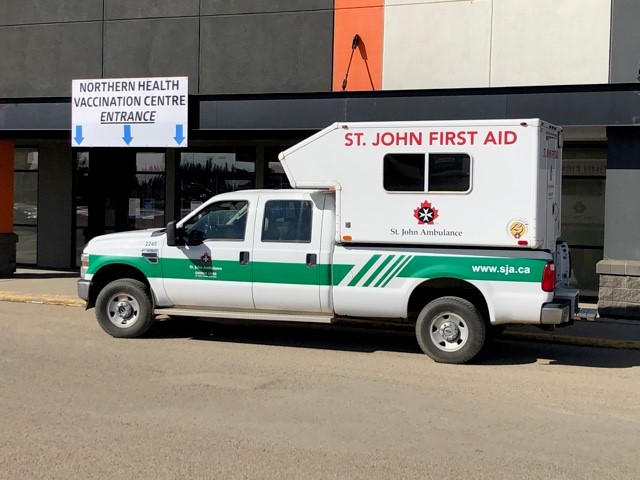 While he's humble about his work as a first aid observer, in the instance of the vaccination sites, David knows his presence helps keep things trucking. "The people that are doing the injections are doctors and nurses," David explains, "if they had to stop to tend to someone, then they can't be doing vaccinations. By having us there as volunteers, we take care of any necessary first aid. It allows the doctors to do what they're there to do, and the community benefits from the fast and efficient pace."
David knows volunteering can be a lifelong passion for anyone, just like it has been for him. "If you're thinking about helping, please put your hand up," he says, "you won't regret it." And for anyone looking for ideas on where to volunteer, David has an enthusiastic suggestion: "St. John is always looking for people of all ages and abilities to join and help their communities," he says. "When COVID is over, we'll still be here, volunteering at events and gatherings across BC."