I recently announced Commemorate 50, an initiative highlighting the 50th anniversary of the decriminalization of homosexuality in Canada. The Office of the Lieutenant Governor of British Columbia aims to celebrate the accomplishments and contributions of the LGBTQ2S+ community and to champion the tireless work done to advance equality, past and present. We're excited to be working with members of the LGBTQ2S+ community to create a visual timeline focused on significant dates, events and figures of the past 50 years.
In order to identify these major moments, representatives from a variety of LGBTQ2S+ organizations gathered at Government House. I'm so grateful to those from the Morgane Oger Foundation, Rainbow Refugee, the Queer Arts Festival, Qmunity, the UBC Equity and Inclusion Office, PFLAG Vancouver, the Chair of Transgender Studies and Transgender Archives at UVic, viaSport British Columbia, and Emily Carr University of Art and Design, for sharing what Commemorate 50 means to them.
At our workshop, the group provided ideas and suggestions and taught me some new things along the way. We agreed the aim of the timeline is to centre, celebrate and give thanks to the labour, sacrifices, and resiliency of both LGBTQ2S+ trailblazers and current advocates. We want to recognize and remember these histories to give legitimacy to those who have given so much. We want to inspire further change and give hope for those in need. This is an opportunity to celebrate the diversity of all Canadians!
While we are still in consultation, I want to express an enormous thank you to the participants of our workshop for sharing their voices, perspectives and personal experiences. I am looking forward to sharing the timeline in the near future.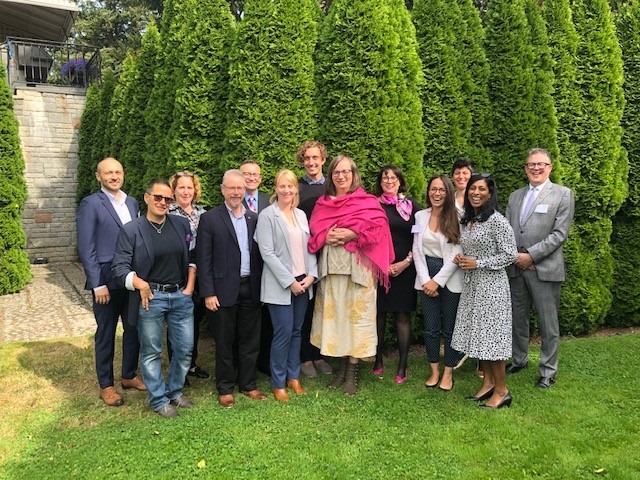 In the meantime, the Office of the Lieutenant Governor will be co-hosting a UBC Dialogue with Santa J. Ono, University of British Columbia President and Vice-Chancellor, called Is it Time to Wave the Flag? We're thrilled to be joined by prominent LGBTQ2+ leaders and advocates, as they share their unique perspectives and vision for shaping a diverse and more inclusive society in Canada and beyond. The dialogue takes place November 13, 2019, from 6:00-9:30 pm. Learn more about the panelists and buy tickets here.
Do you have an idea on what should be featured in our timelines? Some examples of themes we'll cover include activists, arts and culture, First Nations two spirit representation, and identity. Share your thoughts on my Facebook or Twitter.