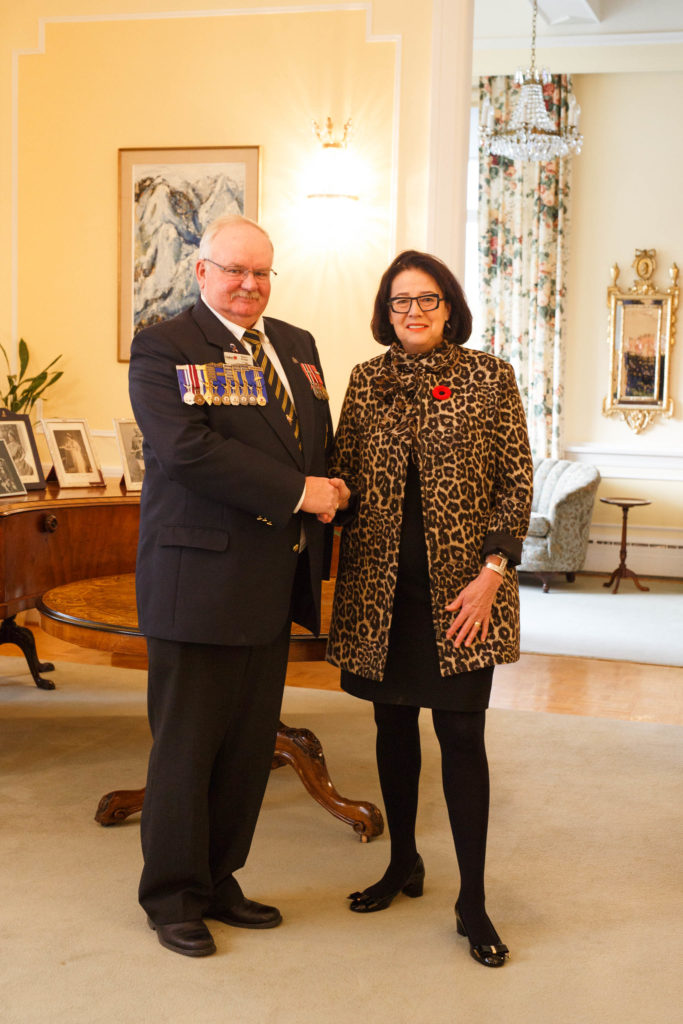 On October 23, 2018, the Honourable Janet Austin, Lieutenant Governor of British Columbia, was presented with the symbolic first poppy by Mr. Glenn Hodge, President of the BC/Yukon Command of the Royal Canadian Legion, at Government House. This important traditional ceremony marks the opening of the annual Poppy Campaign. 2018 also marks the 100th anniversary of the end of World War I– a poignant anniversary that brings to mind the sacrifices made by so many since this defining event.
Donations from the annual Poppy Campaign are used to care for veterans and their families. Funds raised assist veterans suffering from post-traumatic stress injuries and trauma. Your donations also support special educational programs to help soldiers transitioning from military to civilian life. Medical research and health services are also tailored to the specific needs of veterans and so much more.
The Poppy is the international symbol of remembrance and the Poppy Campaign is a visual demonstration to show our veterans just how much their service and their sacrifice means. Legionnaires, Ladies Auxiliaries and community volunteers will be out collecting donations and handing out bright red poppy pins. Smile, shake their hands, thank them and give as generously as you can.
There are other ways to donate to the Poppy Campaign, volunteer and make a difference in the lives of veterans:
Volunteer at your local Legion Branch
Donate and wear a Poppy
Attend a Remembrance Day Ceremony at your local Legion Branch
Text "Poppy" to 20222 to donate $5 on your cell phone
Make a donation for any amount online at http://legionbcyukon.ca/content/give-legion-foundation
The Poppy Campaign runs until November 11, 2018. For more information, please visit legionbcyukon.ca.