NOMINATIONS ARE NOW CLOSED
Nominations are now open for the 2023 British Columbia Reconciliation Award, recognizing individuals, groups and organizations who have demonstrated exceptional leadership, integrity, respect and commitment to furthering reconciliation or inspired others to continue reconciliation efforts.
This award is presented in partnership with the BC Achievement Foundation, whose work includes several established programs honouring excellence and inspiring achievement throughout British Columbia, including the Indigenous Business Award and the Fulmer Award in First Nations Art.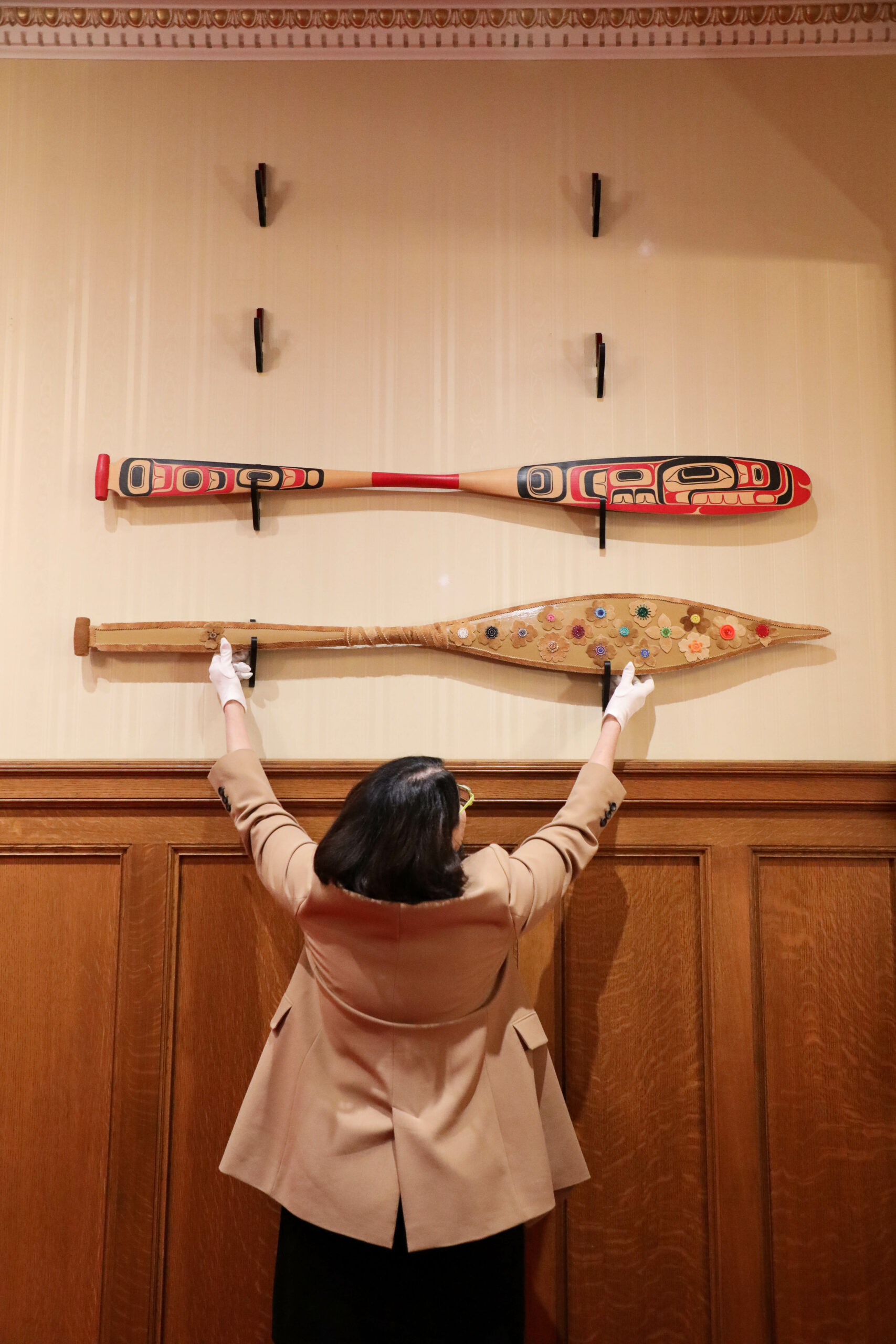 On November 22, 2022, the 2021 and 2022 Reconciliation Paddles were installed by the Honourable Janet Austin and T'esóts'en, Patrick Kelly, at Government House to launch the 2023 call for nominations for the 2023 BC Reconciliation Award.
The BC Reconciliation Award draws inspiration from the work of the Honourable Steven Point, Xwĕ lī qwĕl tĕl, 28th Lieutenant Governor of British Columbia, and a founder of the Award. His hand-carved red cedar canoe, Shxwtitostel, currently on display at the BC Legislature buildings, was created as a symbol of reconciliation, with the understanding that "we are all in the same canoe" and must "paddle together" to move forward.
In honour of this legacy, each years' recipients receive a print of a canoe paddle designed by the Emerging Artist recipient of the Fulmer Award in First Nations Art. The 2021 paddle was created by Kwakwaka'wakw artist Cole Speck, and the 2022 paddle was created by Dene and Carrier beader Crystal Behn. The ongoing series of BC Reconciliation Award paddles will be displayed in Government House.
Learn more about the 2021 and 2022 BC Reconciliation Award recipients here.
The nomination period for the Awards will be open from November 22, 2022, until January 20, 2023. Take part in this journey by nominating an individual or organization today using the nomination form on the BC Achievement Foundation website.