British Columbia Golf, in partnership with the Office of the Lieutenant Governor of British Columbia and the Osoyoos Indian Band-owned Nk'Mip Canyon Desert Golf Course, announce the launch of the inaugural Indigenous Championship British Columbia.
B.C. golfers, who identify as First Nation, Métis or Inuit, will have the opportunity to register for the championship starting March 1, 2023. The event will see 128 men, women and youth compete and play together in an event that will be competitive and fun. BC Golf is thrilled to convene a championship that will celebrate and inspire current and emerging Indigenous golfers in the spirit of sport.
"I am thrilled to see this event come to fruition and am honoured to be a part of this inaugural competition as chairwoman. As a competitive golfer and Indigenous woman, I am looking very much forward to the blending of competition and reconciliation at the same event," said Christina Proteau, chair of the organizing committee. "I am proud to be working towards the goals outlined in UNDRIP, where our event will promote Indigenous engagement in competitive golf."
The championship has long been a dream of former chair of BC Golf, T'esots'en (Patrick Kelly).
"The championship provides an exciting opportunity for Indigenous golfers to walk together in the joy of sport, camaraderie, and, oh yes, a bit of spirited competition!" T'esots'en said. "The first Indigenous Championship British Columbia promises to be the start of a fun new annual sporting tradition to celebrate the best of Indigenous golfers at all levels. Come and be part of the start of a new legacy in sport."
"To be the patron of this tournament, alongside the first Indigenous Lieutenant Governor, Steven Point, is an absolute honour," said Janet Austin, Lieutenant Governor of British Columbia. "It is so important on the journey of reconciliation that there be opportunities like this, for a distinct tournament to celebrate excellence in sport by Indigenous golfers and to create pathways for greater involvement, representation and participation of First Nation, Métis and Inuit people equally on all fields of play."
The championship will begin with an official practice round on May 28 and end on May 30, 2023, after 36 holes played over two days. Hopeful participants have until April 28 to register. Champions will be crowned in five categories: Men's and Women's gross; Men's and Women's net Stableford; and a Youth (under 19) division.
As identified by the Indigenous Sport, Physical Activity and Recreation Council (I·SPARC), the Youth division will serve as final qualifying for golfers under 19 who are vying to represent B.C. at the 2023 North American Indigenous Games in Halifax in July.
Nestled in the breathtaking hills of Osoyoos, the Nk'Mip Canyon Desert Golf Course, which is owned and operated by the Osoyoos Indian Band, will play host to the championship.
"Our team at Nk'Mip Canyon would like to express our thanks and gratitude to everyone involved in bringing such a great event to Nk'Mip Canyon Desert Golf Course," said Dave George, Nk'Mip general manager and Osoyoos Band member. "We feel extremely honoured and proud to be the first in B.C. to host such a prestigious event as the Indigenous Championship British Columbia. We are hopeful that this event will provide many great memorable moments for all who participate, whether they compete, organize or volunteer. I'm confident that our team at Nk'Mip Canyon will do everything it can to make sure every experience is a great one, not only for us and the competitors, but for your team of organizers as well. Lim Limpt (Thank You!)."
Last year, Golf Ontario hosted its inaugural Indigenous golf championship and will host its second later this summer. The Ontario and British Columbia events will each qualify golfers to compete in a national event in fall 2023 at Bear Mountain Resort in Langford.
Renowned Musqueam Nation artist Susan Point has been commissioned to produce the trophies for the Indigenous Championship British Columbia, one for the women's champion and one for the men's champion. This complements the BC Golf championship medals that were produced by Haida Nation artist Ron Russ.
A unique event logo for the Indigenous Championship British Columbia has been created and will be used throughout the event: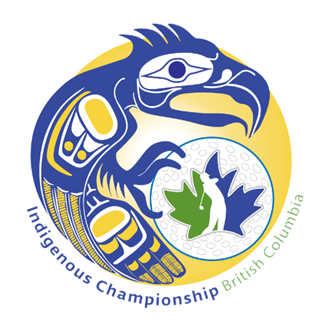 For more information and registration, please visit https://britishcolumbiagolf.org/.