In 2019, the Honourable Janet Austin was honoured to receive an invitation to visit Tŝilhqot'in Title Lands from Chief Joe Alphonse, Tribal Chairman of the Tŝilhqot'in Nits'ilʔin-qi. The trip would mark the first time in Canadian history that a representative of the Crown visited Title Lands since the historic decision.
The home of the Tŝilhqot'in Nation is located in the interior of British Columbia, a beautiful place marked by pine forests, golden grass, and endless blue skies. The Nation is made up of six main communities: Tl'etinqox (Anaham), Tŝi Deldel (Redstone), Yuneŝit'in (Stone), Xeni Gwet'in (Nemiah), ʔEsdilagh (Alexandria) and Tl'esqox (Toosey).
While each of these communities has its own distinct culture and history, they were united when on June 26, 2014, for the first time in Canadian history, the Supreme Court of Canada recognized 1800 square kilometres of land as Aboriginal Title Land.

Aboriginal title includes the rights to control the land and decide how it will be used, to use the land for traditional and modern purposes, and full benefit and ownership of the lands and resources. This area is located within the caretaker area of Xeni Gwet'in (Nemiah Valley).
In 2018, Prime Minister Justin Trudeau visited the community on Title Lands to personally deliver astatement of exoneration for six Tŝilhqot'in chiefs, originally delivered in the House of Commons earlierthat same year. As stated in a 2018 press release, "These chiefs were leaders and warriors of the Tsilhqot'in Nation who acted in accordance with their laws and traditions, and are regarded by their people as heroes. They fought against the colonial government of the time, ultimately leading to their hanging in 1864 and 1865. Prime Minister Trudeau acknowledged that the capture, arrest, and hanging of the six Chiefs was borne of a profound lack of respect for the Tsilhqot'in people, traditions, and territory."
While plans to visit Tŝilhqot'in Title Lands were delayed by the pandemic, when Chief Joe Alphonse came to Government House for his investiture into the Order of British Columbia for his ongoing advocacy for his nation, he reiterated his invitation to the Lieutenant Governor. On August 16, 2022, Her Honour landed in Williams Lake for the start of a momentous trip.
At the Tŝilhqot'in National Office, Her Honour and official party had the pleasure of sharing a meal with the Tŝilhqot'in National Government (TNG). It was an evening filled with meaningful and inspiring conversation with Chief Joe Alphonse, Chief Francis Laceese, Chief Lennon Solomon, Chastity Davis-Alphonse, and TNG staff.
On a bright and sunny day, Her Honour headed to the Tsilhqot'in Culture Camp. The camp has brought together youth for the past 30 years to experience cultural activities such as handicraft making, drumming, singing, and prayers, and traditional practices like medicine walks, horse riding, sweat house building, hunting, fishing, dipnetting, drying meat and fish, and canoeing. Her Honour joined some of the young attendees for camp fun, including a memorable ride in a horse-drawn wagon. It was an inspiring afternoon speaking with young members of Tsilhqot'in Nation, hearing their passion for their land and culture, and to see a new generation take part with so much enthusiasm and dedication to tradition.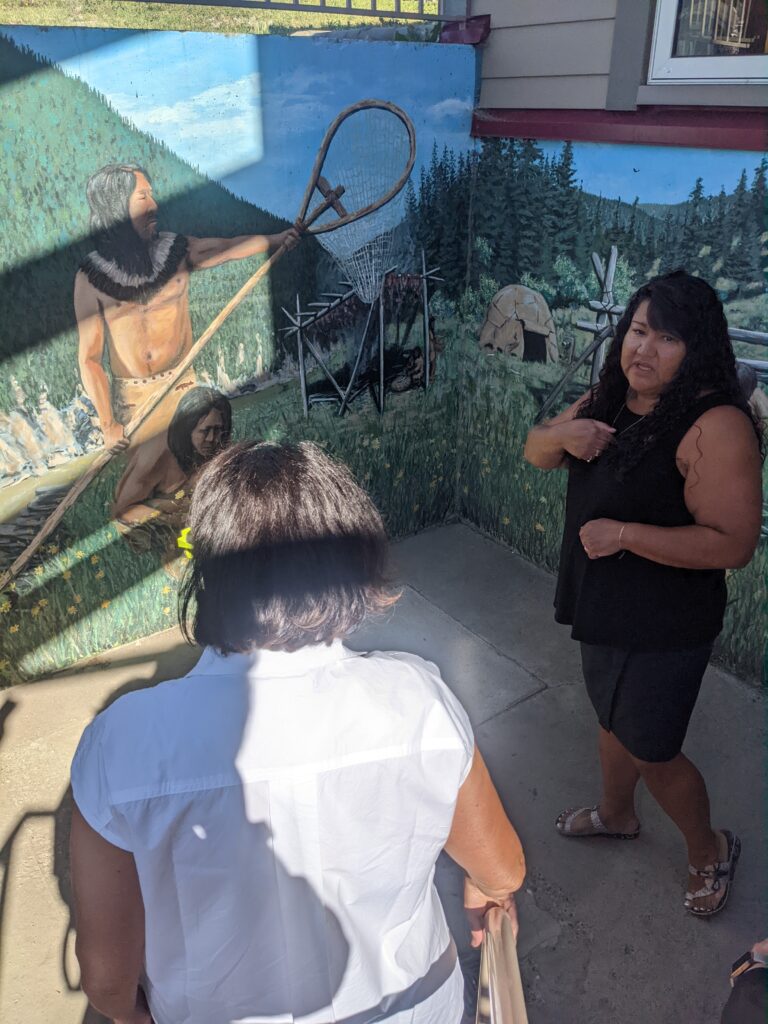 In Williams Lake, Her Honour visited the Cariboo Friendship Centre, where she met with its executive direction, Rosanna McGregor, and staff. The centre offers services to the community, with a focus on supporting Indigenous people. The Friendship Centre is also home to the Hearth restaurant, where Her Honour enjoyed breakfast with the Williams Lake First Nation Chief and council, followed by a tour of murals created by local artists.
On Her Honour's final morning, she met with local representatives for the Cariboo-Chilcotin region, MLA Lorne Doerkson, and the Mayor of Williams Lake, Walt Cobb. They shared their experiences through the past few years recovering from wildfires and reigniting the local economy after the pandemic, and discussed what it means to represent the unique needs of this special part of British Columbia.
Her Honour shares humble gratitude for all she met from the Tŝilhqot'in Nation, for inviting her to their homelands and for allowing her the privilege of meeting with the joy and hope that is the young members of the nation. A crucial part of Reconciliation is honest and open-minded connection brought about by listening, and the remarkable Elders, youth and leaders of the Tŝilhqot'in Nation have given a generous gift in sharing their stories.