I am pleased to share the first in a series of guest blogs on the LG Blog. Today's blog comes from Nicolas Tellez-Espana, a member of the LG Youth Advisory Council:
Nicolas works in the Downtown Eastside supporting people struggling with poverty, homelessness, and addictions through one-on-one coaching and employment support. During the pandemic, he's redirected his work to organize the collection and distribution of PPE in the neighbourhood, as well as continue to coordinate the delivery of essential food programs with Mission Possible.
It is indisputable that the COVID-19 pandemic has had far reaching effects across the province. While everyone in British Columbia is affected by this public health emergency, there are communities where the impact of these changes is much more robust. As the Community Engagement Coordinator for Mission Possible, a small not-for-profit in Vancouver's Downtown Eastside (DTES), I have witnessed how this community has been impacted by COVID-19, how resilience keeps this neighbourhood going, and how external support makes a tangible difference amidst all the chaos.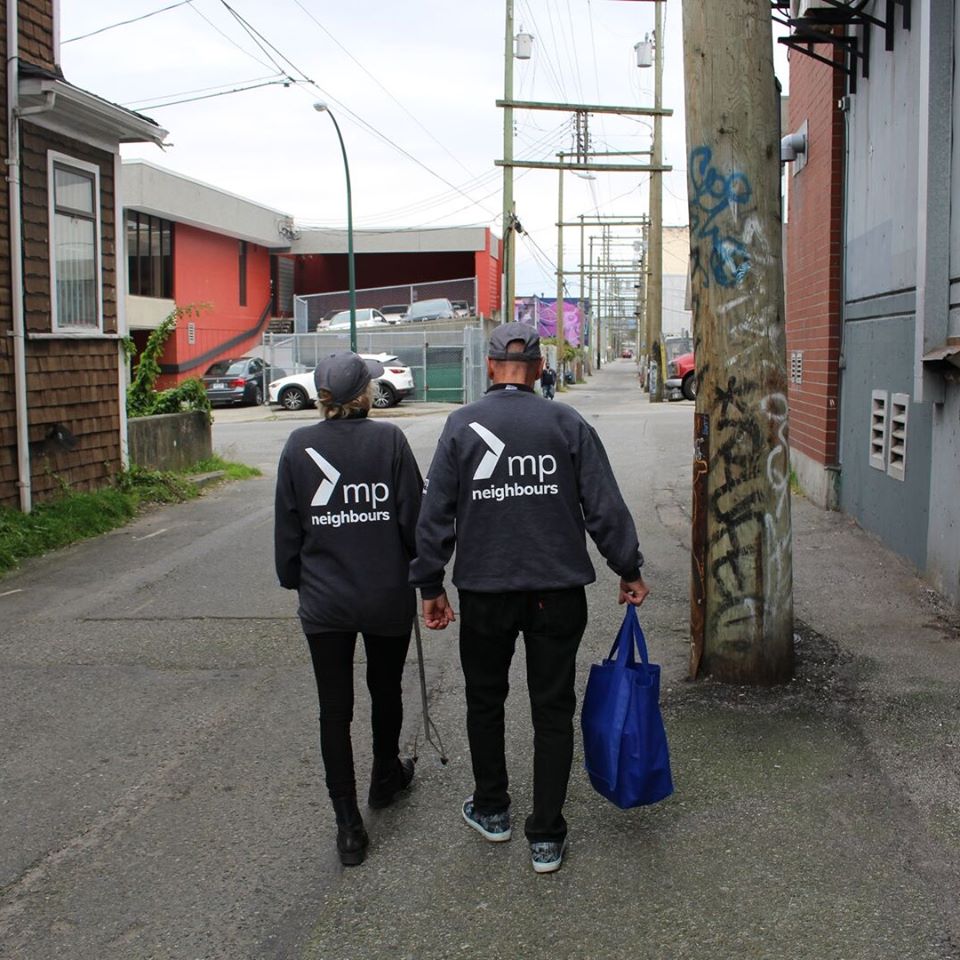 A big issue in the DTES was the closing of public spaces. While it's well understood that to reduce the spread of COVID-19, physical distancing measures are necessary, they still present challenges for those in greatest need. As a low-income community, the reliance on libraries, community centres, and parks for the maintenance of social life is greater than in other parts of Metro Vancouver. When residents were no longer able to access these spaces, particularly the library, it effectively cut people off from public life, and limited their access to information, socialization, and essential services.
Similarly, the reduction in grocery store hours and the closure of small stores led to an increase in attendance to local meal programs. Mission Possible alone saw its weekend breakfast program increase from 100 people to 300 residents. However, the surge in people needing meals comes with significant drawbacks for morale. Previously, people could gather together and share a meal in communal spaces. Social distancing measures, although crucial to flatten the curve, resulted in a loss of dignity for many residents as they waited in long lines for a packaged meal.
Nevertheless, the resilience of the neighbourhood is ever present, as the DTES community and the organizations that support it adapt and move forward. Partnerships like Protect Our Frontline Workers in Vancouver organized hundreds of people to sew masks and gather personal protective equipment (PPE) needed for the DTES. Similarly, Union Gospel Mission (UGM) and Mission Possible shifted social enterprise and engagement efforts to make PPE accessible in the community. From UGM program participants engaging in mask sewing efforts to Mission Possible acting as a collection and distribution point for masks in the neighbourhood, the communal effort to flatten the curve and protect people in the DTES is tangible.
There are still many areas in the DTES that require attention, particularly issues related to housing. However, the resilience and integrity of the DTES remains strong, and I'm encouraged by the support and care from people around this neighbourhood. Despite being physically distant, the social fabric that binds this community together grows tighter, and that is cause for celebration amidst the pandemic.