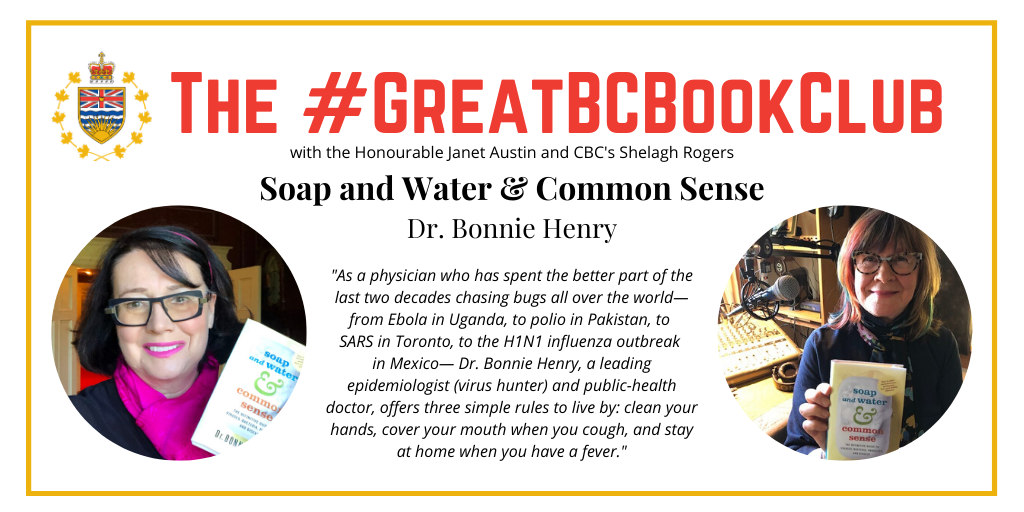 Bringing British Columbians Together One Good Book at a Time
Reading has always been an important part of my life and, during challenging times, has been a great source of enjoyment and comfort. Among my friends, there's no one who loves a good book more than the fabulous Shelagh Rogers!
Knowing that many of you share our love of literature and its therapeutic value, we have decided to launch the Great BC Book Club. By engaging BC bibliophiles through online discussion, we hope to combat the isolation that many people are now feeling and to keep us all hopeful, thoughtful and positive.
Every few weeks, Shelagh and I will select a new book to read together and offer insights and discussion points on social media, using the hashtag #GreatBCBookClub. We hope you will follow along and offer your own thoughts and suggestions.
First Pick – Soap, Water & Common Sense by Dr. Bonnie Henry
Keeping informed on current practices for maintaining our physical and mental health is top of mind for all of us at this time. Who better to advise us than BC's Provincial Health Officer, Dr. Bonnie Henry, whose content-rich daily briefings on COVID-19 are a model of clarity, calm and compassion.
As luck would have it, House of Anansi Press has reissued Soap, Water & Common Sense, Dr. Henry's guide to fighting corona viruses, pandemics and deadly diseases. We couldn't have a better choice to start!
Get Your Copy
House of Anansi Press, publisher of Soap and Water & Common Sense, is actively bringing readers together with their Reading Apart, Together promotion. Purchase an ebook from House of Anansi, including Soap and Water & Common Sense, and they'll invite you to add the name and email of a friend in the notes section—your friend will receive a free digital copy of the same book! This way you can remain connected through reading, despite the distance.
Some book stores are still making deliveries or offering "at the door" pick ups, like Munro's Books in Victoria, Mosaic Books in Kelowna, Iron Dog Books in Burnaby or Otter Books in Nelson. Call your local book store to find out in advance if they have a copy and to confirm that delivery is available.
For those in self-isolation or not comfortable leaving the house, now is a great time to try out an ereader! Soap and Water & Common Sense is available through any eBook retailer, including Indigo, Kobo, Amazon and at houseofanansi.com.
Join the Conversation!
Share your thoughts and ideas by tagging #GreatBCBookClub on social media. You can follow along with our reading at @LGJanetAustin and @RogersShelagh.
Start Your Own Virtual Book Club
You might also want to form your own virtual book club using an online platform like Zoom, Google Hangouts or Skype. Stay tuned this week for advice on setting up your own virtual book club.