Over the past month, I have watched with great anticipation as clusters of tulips in the Maclure Garden at Government House began to shoot from the earth. While we are fortunate to have a great variety of flowers blooming on the grounds throughout the year, these particular tulips have special meaning.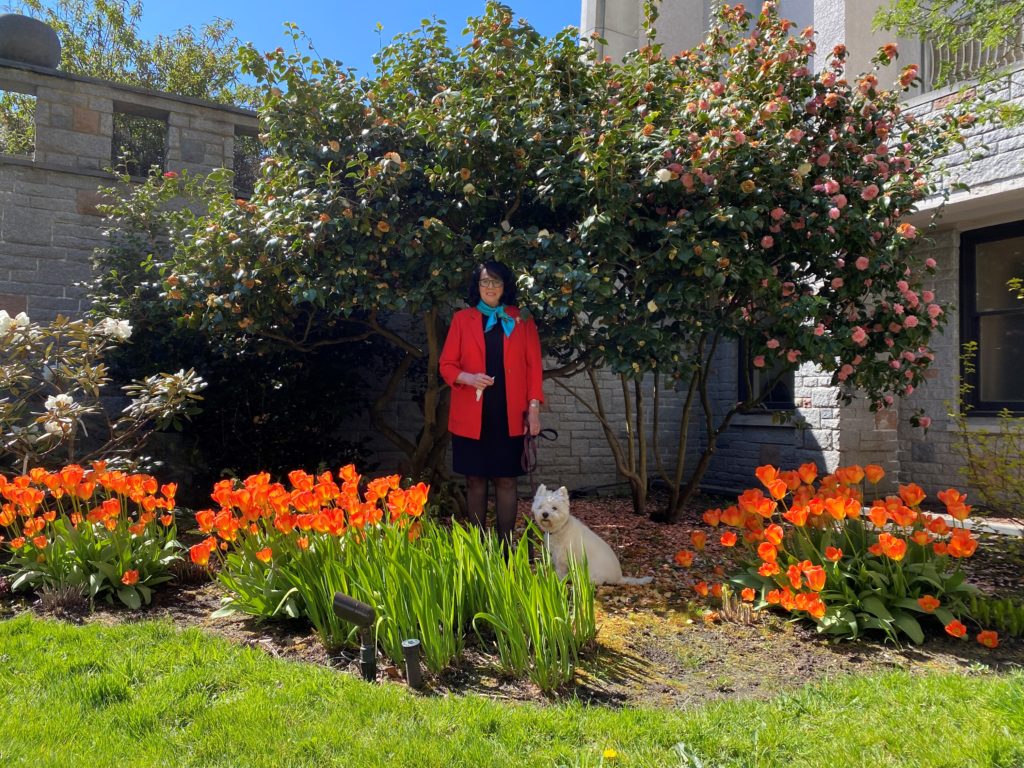 The bulbs of the Liberation75 tulip were gifted to Government House by the Embassy of the Kingdom of Netherlands in recognition of the 75th Anniversary of the Liberation of the Netherlands in the Second World War. Tulips traditionally represent the international friendship between Canada and the Netherlands, particularly after World War II: during the Second World War, Canada sheltered the Dutch Crown Princess Juliana and her family in Ottawa. After the war, Princess Juliana presented Canada with 100,000 tulip bulbs as a token of gratitude. For 2020, the goal of planting 1.1 million Liberation75 tulips across Canada also honours the 1.1 million Canadians who served during WWII.
The Office of the Lieutenant Governor of British Columbia has its own special connection to the Netherlands and the anniversary of liberation: In 1978, Brigadier the Honourable Henry Bell-Irving became the 23rd Lieutenant Governor of British Columbia. Previously, as commander of the Seaforth Highlanders, he led the first Canadian troops into Amsterdam, liberating it from German occupation in 1945.
The ecstatic welcome for the Canadian forces from the Dutch reinforced to Bell-Irving the purpose of Canadian presence in the war. In a speech to an enormous crowd gathered in Amsterdam's Dam Square, Bell-Irving stated, "After several years away from home, the constant loss of friends in battle and a good deal of personal misery, it is natural to ask, 'Why did I do this?' The good people of Amsterdam have given us the answer. We may go home now filled with the knowledge our journey has indeed been so well worthwhile. Thank you, Amsterdam." (Source)
Thousands of orange Liberation75 tulips, in addition to the deep red Canadian Liberator tulip, are currently blooming in commemoration across the country. They remind us to remember those Canadians lost in the fight to liberate the Netherlands, to honour the hardships faced by the Dutch during the war, and to celebrate the friendship that bloomed as a result of our two nations coming together. While many ceremonies and celebrations for this important anniversary have been cancelled due to COVID-19, these tulips, with their bright beauty, show us in these challenging times that hope is steadfast and beautiful, and sometimes waiting just beneath the soil.
Watch the new Heritage Minute about the liberation of the Netherlands.