The Friends of Government House Gardens Society, known casually as the Friends, are a common sight on the grounds of the residence of the Lieutenant Governor of British Columbia. On Tuesdays and Thursdays, from spring to fall, they can be seen working in the flower beds and boxes, weeding, planting and pruning.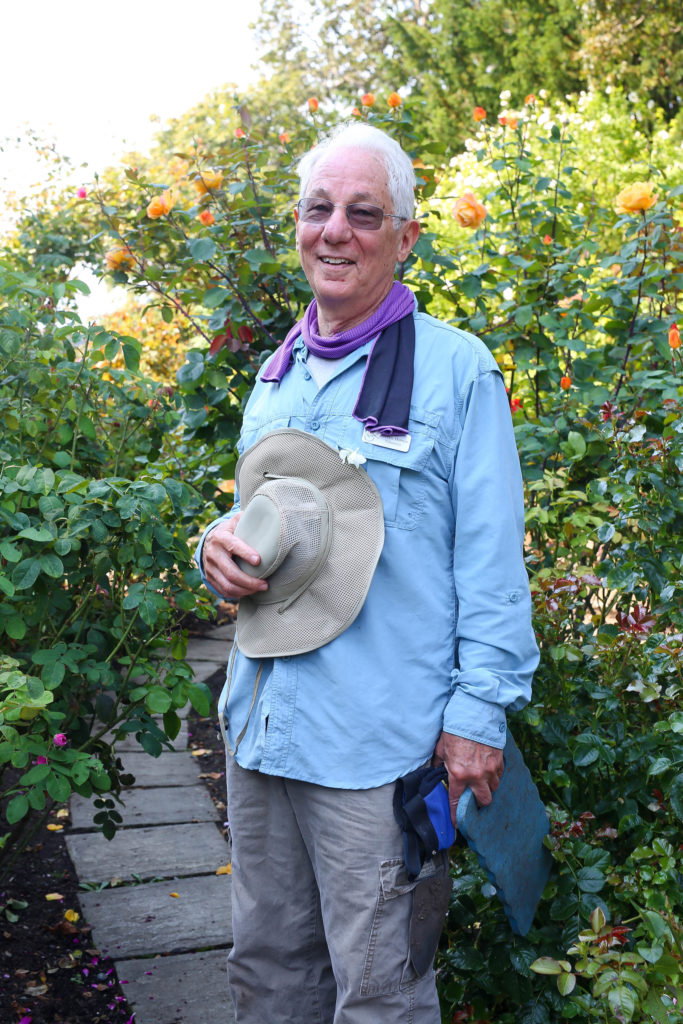 A good portion of the Friends are local retirees, looking for a like-minded community or perhaps simply a place to dig in the dirt, having downsized to a home without a yard. But some volunteers have come further afield to volunteer for the numerous tasks required to keep the landscapes of Government House looking spectacular.
Everett Hyman calls Austin, Texas, home. For a few months of the year, he lives in Victoria, close to Beacon Hill Park, but it wasn't until his third summer here that he became an official Friend. He found out about the Friends online and applied through the website. Getting started, he said, was easy.
"The ladies are real nice," He says, referring to his fellow gardeners in the Sunken Rose Garden. "They tell me what to do," He laughs, "I deadhead and weed."
While Everett has spent most of his life in Texas, the notorious summer heat has him heading north every year.
"[In Victoria] I'm sitting outside at one o'clock in the afternoon and thinking, you can't do this back home. Maybe seven or eight in the evening, you could go for a walk." He says. "If I wasn't here, I'd be at home sitting on my butt looking through the glass, because you can't go outside."
Here he enjoys the temperate climate and the opportunity to "play in the yard", with the satisfaction of a job well done: "No one bothers you, you get to zone out. The good thing is when you're finished, you're finished. When I see how perfect it is—there's not a weed there—it's something to show people, I weeded that."
He didn't know who the Lieutenant Governor was when he came to Government House, but he does now, noting it's all part of the unique experience of volunteering for the Friends.
"I'm honoured to be able to come to Government House," he says, "I got to meet the Lieutenant Governor—I was working in the McClure Garden, and she came out and talked to us. I'm still in awe of that sort of thing."
Government House, Everett agrees, is a hidden treasure. "It's amazing to say where I work. This is special."
The Friends are always looking for new volunteers, local or from abroad, and not just for the gardens—other volunteers work in areas such as archives and administration, as tour guides and greeters, or in the Tea Room and Costume Museum. Interested in volunteering? Visit the Friends of Government House Gardens Society website for more information.