I am delighted to share that as of May 20, 2020, Rudi's Tea Room will open for business. In light of current provincial guidelines and health recommendations, this summer Rudi's Tea Room will be offering take out only. Executive chef Aleks Kornat and sous chef Vincent Capitano, however, have created a wonderful menu to be enjoyed outside or in the comfort of your home and shared with the family.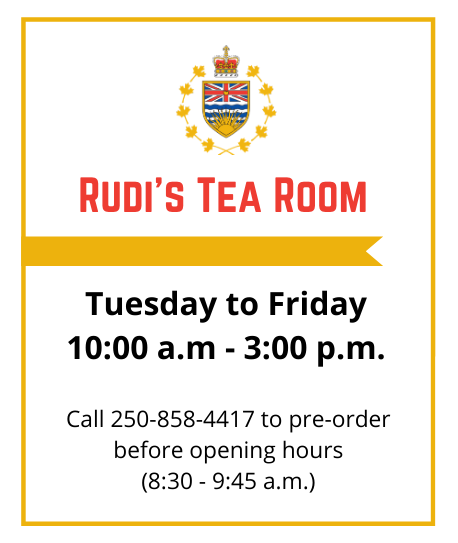 This year's menu focuses on fresh and local, with food sourced as close by as the Government House veggie gardens. You can also take a taste of Government House away with you—the Tea Room will be selling whole loaves of bread, packs of pastries, preserves made with fruit from our trees, and Government House honey (yes, we have beehives too!). Don't worry—our beloved scones will be returning as well.
Starting May 20, from 8:30-9:45 a.m., you can call in orders ahead of opening, with pick up beginning at 10:00 am. After ten, orders will taken onsite only at the Tea Room. At this time, we ask that credit cards or debit are used over cash (tap will be available).
In order to serve guests safely, we will be adhering to public health recommendations: staff will wear masks and gloves; the communal condiment stand will be replaced with single serve items, food will be served in recyclable take out containers, and, of course, we will have signage in place to encourage physical distancing.
If you are sick or feeling unwell or have been in contact with someone who is sick, we ask that you stay home for now. Otherwise, we look forward to welcoming you back to Rudi's Tea Room on May 20. See you then!