I am greatly saddened to share that Rudi Hoenson—a lifelong philanthropist, veteran and dear friend of Government House— has passed away. His experiences as a young P.O.W. in Nagasaki, where he witnessed the dropping of the atomic bomb, only served to inspire his generous spirit.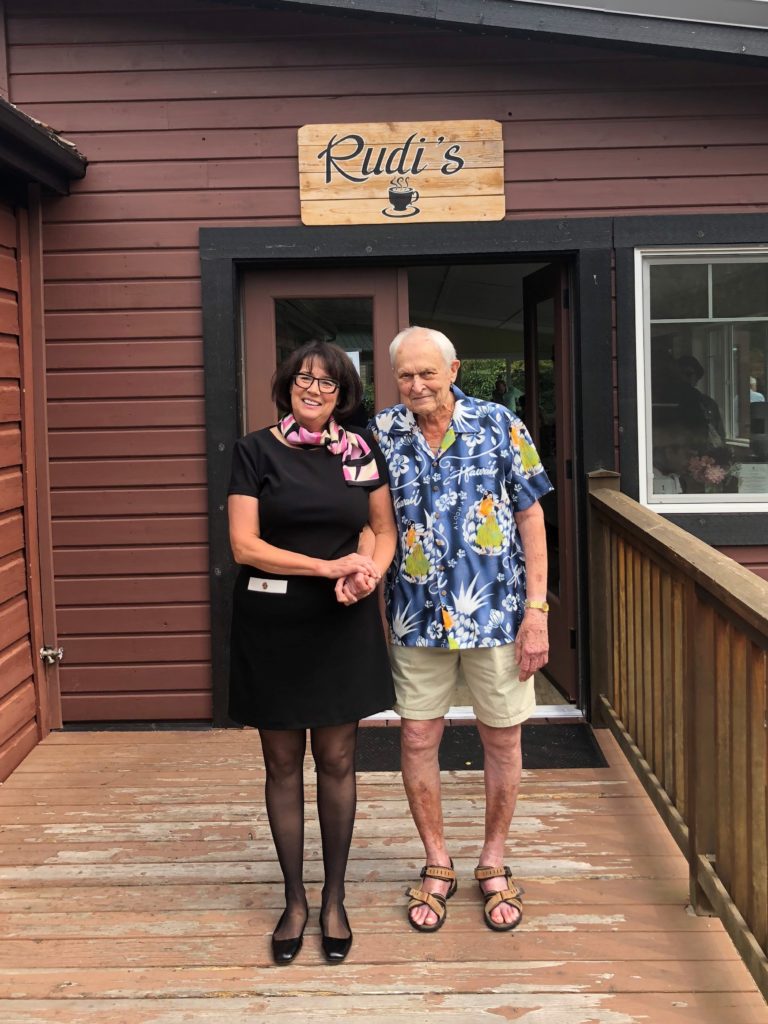 Rudi's support and love for Government House have left a permanent impact for all visitors to the grounds to enjoy. His first contributions helped build fences around the rose gardens, protecting them from deer and allowing the flowers to flourish.
He also loved visiting the Tea Room and was frequently seen there chatting with the volunteers. Because he got so much enjoyment from this, he wanted others to experience the same. His donations allowed Government House to expand the facility, including the sun deck, a dishwasher, and, eventually, the expansion of the main Tea Room space. His contributions were so extensive that the Tea Room was renamed in his honour, to Rudi's Tea Room.
Jerymy Brownridge, Private Secretary to the Lieutenant Governor, remembers Rudi's many visits to the Tea Room with great fondness, describing how Rudi could often be seen "holding court" with his many friends and admirers. Rudi always celebrated his birthday at the Tea Room, enjoying cake and coffee, and, when in residence, a visit from the Lieutenant Governor.
Everyone at Government House will miss the smiling presence of Rudi. Going forward, in his memory, Rudi's birthday will be celebrated every July 7 at the Tea Room. All proceeds from desserts sold that day will go to Broadmead Lodge, the veteran's home that held a deep place in Rudi's heart.
Read more about Rudi's incredible life here. Rest in peace, Rudi Hoenson.