I am happy to share that the grounds of Government House will reopen to visitors on May 14, 2020. Following the recent announcements of public health experts, and in keeping with guidance set out by the province, we have developed a phased approach, meaning at this time the grounds will be open for limited hours, from 8:00 a.m. until 3:00 p.m.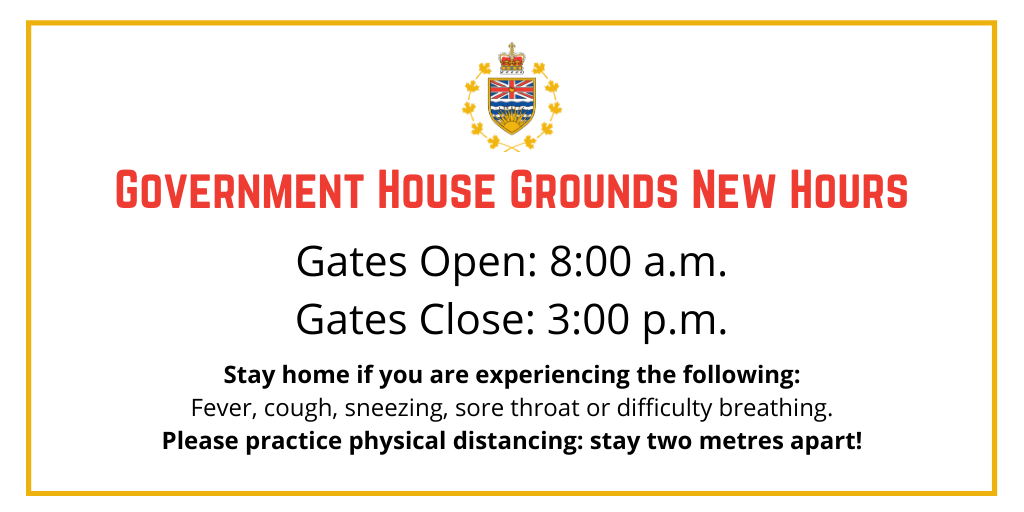 We have taken many factors into consideration when deciding this plan, including, first and foremost, the health and safety of our volunteers, staff, contractors, and visiting patrons.
We ask that you adhere to signage posted throughout the grounds encouraging physical distancing, staying home if you are sick or feel unwell, and giving lots of space to gardeners and other working staff. We will be enhancing the cleaning schedules for the public washrooms, and there will be additional hand washing stations located throughout the grounds. You'll also notice that benches and other "common touch" areas will be taped off.
We will be monitoring the situation in the coming weeks, and hope to increase our open hours based on the success of this first phase. We will continue to align our operations based on advice and guidelines from provincial health officials, so please note the possibility remains that the grounds may close again if necessary.
For now, we look forward to seeing you at Government House (from a safe distance!) on May 14, 2020. Stay tuned for an update on the re-opening of Rudi's Tea Room on May 20 as well!