Government House is known for its ceremonies, celebrations and receptions, and the highlight for many a guest is the wonderful cuisine, prepared by chef Aleks Kornat, sous chef Vincent Capitano and their hard-working team.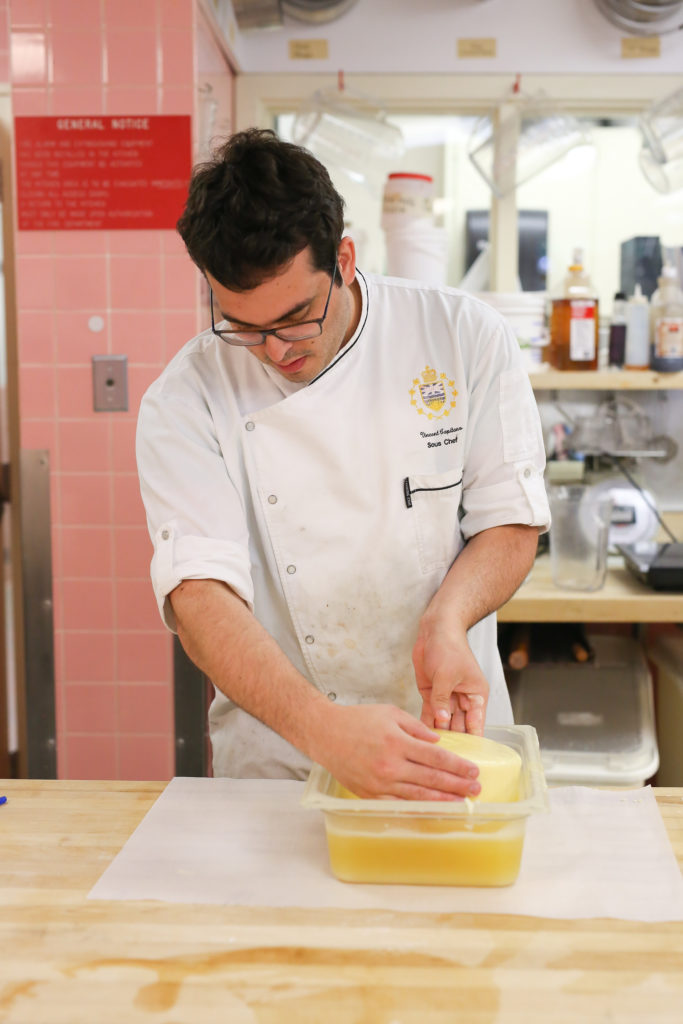 The menu always emphasizes BC ingredients, with many herbs and vegetables picked from the nearby Government House gardens, so it's no surprise that Vincent has taken on a new project aligning with the House's commitment to local whenever possible. On a Friday morning, he can be found carefully dipping a wheel of Jarlsberg in a bath of wax, one of the many steps involved in the creation of a line of Government House cheeses.
Vincent is no stranger to the cheese making process. Influenced by his Italian roots, he started making mozzarella, ricotta and mascarpone at home. Looking into the more complex process of making hard cheeses, he saw the potential to make something unique for Government House guests to enjoy.
"Chef Aleks and I have developed this mentality— if we can do it, why get it from someone else?" he says, "It adds our personal flair and in the end these small batch, meticulously cared-for cheeses are going to taste much better than high production stuff."
Milk for the cheese comes from Morningstar Farm, and they've partnered with Zero Waste Emporium to bring the milk from Parksville to Victoria. The partnership lowers the cost of shipping and helps a local green business in their environmental efforts.
So far Vincent has made a bourbon maple cheddar, a merlot-infused cheddar, a parmesan and a Jarlsberg, with plans for a gouda, brie, Oka-style cheese and a Tiger Blue, a hybrid between a Stilton blue cheese and a gorgonzola inspired by Penticton-based cheese makers Poplar Grove.
Vincent is most looking forward to seeing the finished parmesan, although there's a bit of a wait involved.
"The parmesan will take a full year," he says, "We'll know then if we get that desired ripeness."
For now, the fragrant fruits of Vincent's labour will be ageing in the fridge, with the goal of having a full cheese board available by November.
Interested in visiting Government House? Join one of our upcoming public tours—while the kitchen is not a part of the itinerary, you'll learn about the House, its history and the role of the Lieutenant Governor. You can also try Chef-made treats and lunches at Rudi's Tea Room, open for the season until August 30.