In honour of International Women's Day, and in partnership with the BC Gender Equity Office, I'm sharing Women on the COVID Front Lines, profiles of women in British Columbia working to serve the needs of their communities through the pandemic.
As the Director of Education, and an experienced early childhood educator, Angie Maitland oversees the C'imo'ca Headstart Childcare Centre and the Infant Toddler programs in Haisla (Kitamaat Village), as well as the Haisla community school. In addition, Angie manages youth programs, the local recreation centre and oversees Haisla members attending school outside of the community.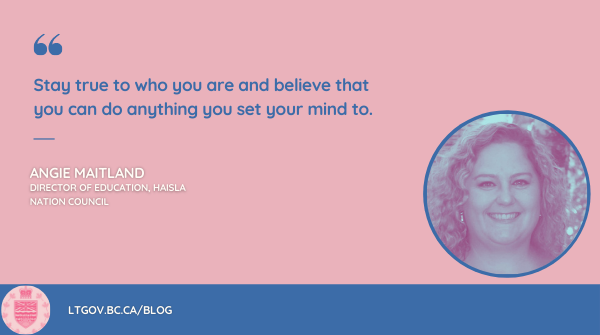 Angie has also been recently recognized by the BC Aboriginal Child Care Society for her hard work and for making a big difference in her community.
It was Angie who wrote a significant proposal that brought a new child care centre to her community, and she also secured the funding and managed the entire project. As a result, the community has an amazing new facility that includes a full Haislakala immersion preschool program called the Language Nest. The project was no easy task, but Angie says her parents taught her that she is capable of anything she sets her mind to.
On any given day, this could mean consoling a child with a band-aid, hanging up a bulletin board or tackling an oil change – there is really no task that she won't try. For young people looking to their future, Angie says "stay true to who you are and believe that you can do anything."
Angie also knows it's okay to ask for help and allow those around her to do so. Angie's team is comprised of proud, confident and caring women who provide support for children and their families. As the team leader, Angie feels respected and can say what's on her mind and know she is listened to.
Like many women, Angie has felt more pressure during the COVID-19 pandemic as people need more time, understanding, guidance and care. With a staff of 43 people, and a growing family, it can be challenging to support everyone.
However, Angie and her family are resilient, take things in stride and move forward. Angie says her amazing husband of 24 years, who is also her high school sweetheart, is an equal partner so there are no extra issues when she comes home from work. She also advocates for self care and time to recharge, which is not always easy, but she says she's working on it.
There is added reason for celebration this March as Angie is going to be a first-time Grandmother. As a trained Doula, she can be at daughter's side to welcome the new baby to the world.
Angie is extremely proud to work with the Haisla Nation as this has meant being a part of a community that has always come together in times of need. During the pandemic, the community has been united and supported each other from isolation, helped with meals and demonstrated encouragement.
Angie observes that the pandemic is a trauma that many people are dealing with on top of already existing traumas and encourages people to be patient and caring towards one another. She says that each person is living in their own COVID world as far as worries or anxiety and we need to be supportive of one another.
Angie's experience and community work are extensive. She previously worked alongside her husband to run a mechanics shop business. She has also worked to support youth facing mental health and substance use, is an advisor for the BC Aboriginal Childcare Society, and a member of the Provincial Child Care Council. Angie is also Vice President of the Tamatik Status of Women Board in Kitimat, which is a non-profit society that provides programs and services for individuals and families affected by social issues with a focus on addressing violence against women, youth and children.
We acknowledge Angie, her team, family and community for all that is being done to take care of each other, get through the pandemic and look to the future. Thank you, Angie!