In honour of International Women's Day, and in partnership with the BC Gender Equity Office, I'm sharing Women on the COVID Front Lines, profiles of women in British Columbia working to serve the needs of their communities through the pandemic.
Sarah Crowe is a nurse practitioner with a unique role as there are only a few in the entire province who work in the critical care environment. While nursing has traditionally been a female-dominant career, being a nurse practitioner means functioning as part of the medical team as well as the nursing team.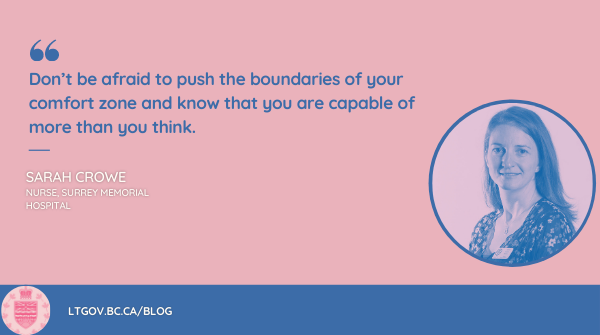 Sarah has an active clinical practice where she cares for patients and their families, and mentors and teaches nurses. Sarah is also a researcher with a focus on Intensive Care Unit survivorship and care of teams.
Having been in health care for more than 20 years, Sarah knows the role has challenges, including being accepted for what nurse practitioners bring to the team. At times, patients, their families and even some nursing groups may also find it difficult to understand the position.
Working in healthcare during COVID-19 has been an additional challenge on many fronts. The pandemic has meant a greater focus on virtual services, which can be difficult for some patients and their families. It has also meant caring for critically ill people who are not able to visit with family. "It was heartbreaking," Sarah says. "And it was the nurses that were there to support them."
There was also the added stress for the staff in trying to reassure their own families that they were safe and not exposed to the virus. Unfortunately, some staff also encountered people who treated them differently because they cared for patients with COVID-19.
The pandemic has taken an emotional toll as well. When the pandemic first hit, the anxiety surrounding the unknown and fear of what was to come as the pandemic evolved around the world was extremely difficult.
As a leader, Sarah felt like she had to be the voice of reason and calm to support the team and de-escalate some of the heightened emotions. Sarah's aim was to validate worries and concerns, and also reinforce information about how they were keeping everyone safe, that their PPE was adequate and that they had a plan.
Although many in the critical care teams are exhausted and feel stretched to their limits, Sarah is so proud of the work they have done. She expresses the importance of taking care of each other to ensure everyone stays healthy – physically, mentally and emotionally.
She also hopes that some of the newfound kindness people have shown each other continues. For those working in the medical field, Sarah says there is also a greater appreciation for each other's role and value on the team. "Care of patients does not happen without the entire team," Sarah adds. "Whether that's the housekeeper, the bedside nurse or the medical provider, we are all necessary and all valuable."
Sarah reflects that many nurses are seen to "just do the work" and are often quiet and humble in their accomplishments. She acknowledges that many nurses frequently support other's projects, including physicians, pharmacists and academics, rather than lead their own.
It is for this reason that Sarah advocates for nurses and nurse practitioners to have a bigger voice and be proud of the amazing work they do for the people they support. Sarah encourages the upcoming generation to understand and recognize their value – and to see themselves as leaders.
For Sarah, knowing that she is more resilient than she thought and what she does matters has made all the difference.
She also encourages young people not to settle for the status quo, not to be afraid to push the boundaries of your comfort zone and know that you are capable of more than you think. Sarah notes that having been an introvert her whole life, it has taken a long time for her get comfortable as a leader and to have the self confidence that she has now.
In addition to being a Nurse Practitioner, Sarah is the Vice President of the Canadian Association of Critical Care Nurses and has recently published a research study examining the impact of the pandemic on front line critical care nurses. Sarah is also Co-Chair, Scientific Committee, World Critical Care Congress 2021 and Adjunct Professor, UBC School of Nursing.
We acknowledge Sarah, her team at Surrey Memorial Hospital and the many people in the heath care system who are working around the clock to see us through the COVID-19 pandemic. Thank you, Sarah!