The theme for the 2021 National Volunteer Week is "The Value of One, The Power of Many", and the Office of the Lieutenant Governor is highlighting the volunteer work of our partners. Today two members of the LG Youth Advisory Council share their experiences volunteering, and why everyone should consider donating their time to good causes.
Paige Ingram: "…supporting someone in need creates a ripple effect of positive actions."
Paige has always been the kind of volunteer who jumps in both feet first. Her first experiences with volunteering stretch all the way back to her elementary school "Spirit Club" for the Greater Vancouver Food Bank, and have continued with her leadership of initiatives to raise awareness of social injustices, support peer-to-peer mental health programs, leading STEM mentorship, and even producing an award winning video featuring the lived experiences of racism in Canada. Paige reflects of her diverse experiences, "As a younger student, I looked up to others who were actively involved in their community and took initiative to make a difference for causes they cared about. In turn, this inspired me to participate in volunteer activities, which I hope will have a similar effect on other youth. A community that values volunteering also values altruism, empathy, and initiative; a community which I would like to be a part of."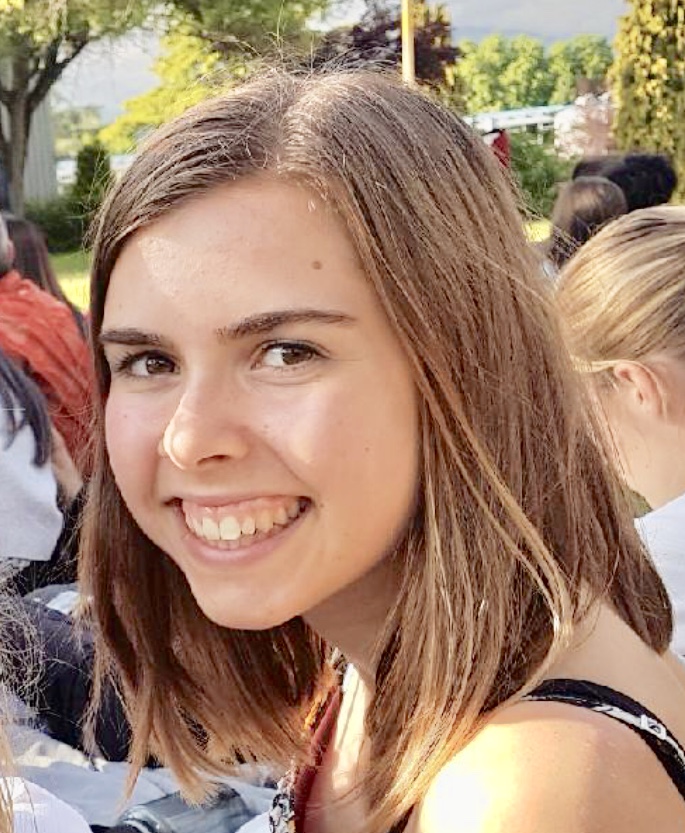 As a passionate young volunteer in her community, Paige has always been most drawn to contribute to the work that she has a personal connection to. She became a leader for Here4Peers after her own mental health was impacted by family illness, and she recognized the she and her family needed more support. Her positive experiences with the program inspired her do more, and she "began to understand how there were many others who were experiencing trauma, adversity, isolation, or a sense of helplessness and lacked support. Understanding that my family would have greatly benefitted from mental health support during my mom's cancer diagnosis and treatment." Her work as a Facilitator has had an enormous impact on youth in her community by providing workshops to 12 schools for 300 youth. "I learned how to create an inclusive and comfortable environment for students to speak about mental health," Paige shares, "Empowering youth with these skills was rewarding for me, as I felt empathy and connected with them through our shared challenges."
Recalling the surreal experience of the We Walk for Water Campaign, which mobilized more than 1000 students and teachers to raise awareness of water crisis and funds to provide water for 50 people for life, Paige has found more motivation to keep volunteering with every project. She encourages others to join a cause they care about, especially young people: "Not only does volunteering directly benefit my community by providing youth with the skills and resources they need to support their mental health or raising awareness for important issues such as racism in Vancouver, volunteering also promotes a community of giving back and supporting others."
To the young people thinking of getting more involved where they lives, she hopes that people won't shy away and choose to just get started, to discover as she has how volunteering can directly benefit a community, provide skills to youth, raise awareness, and promote the community to do more to give back and support others. No matter where you live, the power is in the "compounding effect of volunteering. One simple act of supporting someone in need creates a ripple effect of positive actions."
Furqana Khan: "…a lifelong learning experience."
"There isn't a volunteering endeavor I have undertaken that hasn't resulted in a lifelong learning experience," says Furqana. Her first volunteer role was as a Junior Volunteer at the University Hospital of Northern British Columbia, and she hasn't looked back since. These days she splits her time working the Advisory Committee on Accessibility to the City of Prince George and as a Board Member for the University of Northern BC.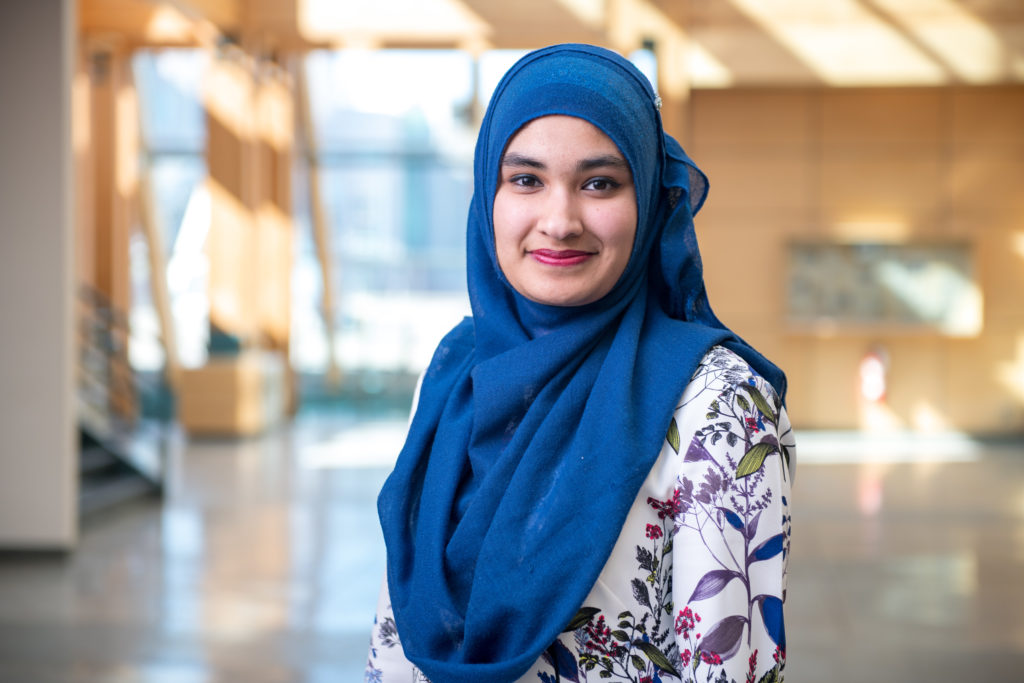 "When I can see direct results of the work I've put in, the work is most rewarding," says Furqana. "Engaging with people directly helps towards this." One of her fondest memories came from a connection she made with a resident at a long-term care home where she volunteered. "I visited him weekly till he passed away," Furqana recalls. The man had been a patient at the hospital where Furqana had previously volunteered; she remembered playing card games with him, and apparently he never forget her either. "Despite the possibly hundreds of people who came and went from his life over the years, [as] a patient and then a long-term care home resident, he remembered me," Furqana says. "That was the first time I understood what an impact I had made without realizing it; it was the time I learned the value of volunteering."
To Furqana, volunteering allows different perspectives to come together toward a common goal. It promotes community engagement for diverse causes. Every individual effort can add up, and can create a movement that produces incremental change in the long run. For those who want to get started with volunteering, Furqana advises its best (and the most fun!) to bring a friend: "If you're nervous, take a buddy along!" Not only will you and your friend enjoy a life changing experience, volunteering means meeting lots of other great people too: "The networking you do as a volunteer, Furqana says, "is totally worth the effort."
Learn more about Paige and Furqana's volunteer work:
Be the Change: Creating positive social change in local and global communities.
Watch "Tracks" Documentary: An award winning documentary created by Grade 10 students featuring Two Muslim women recounting their respective experiences of racism on public transportation.
Wellness Wednesdays: Supporting students by posting mental wellness strategies.
BizTech: provides value-adding and memorable experiences that focus on the integration of two of the world's most powerful fields; technology and business.
Junior Volunteers at the University Hospital of Northern BC: Junior volunteers are young people who have a passion for patient care. Junior volunteers devote themselves to a two hour shift per week and optional special projects, under the direction of a supervisor.
Advisory Committee on Accessibility, City of Prince George: The Advisory Committee on Accessibility advises and assists City of Prince George Council, staff, and other committees with formulating and promoting strategies and actions to create and maintain a barrier-free community.