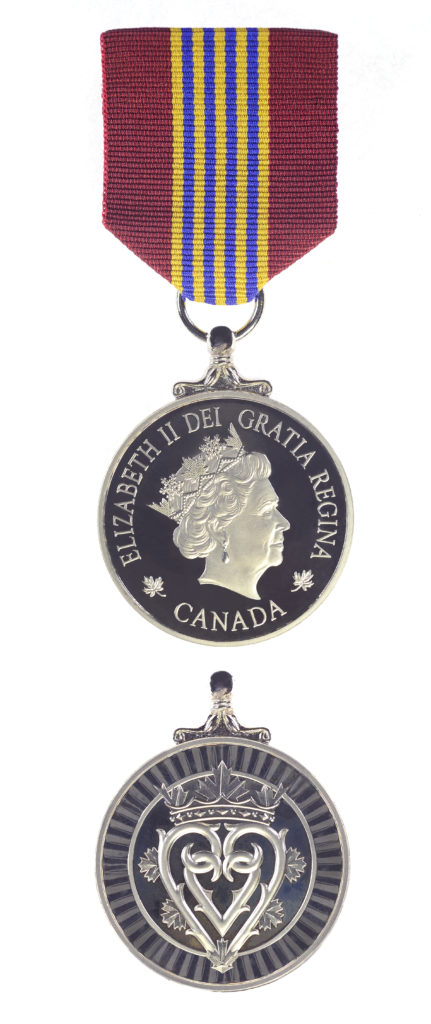 On Thursday, September 6, 2018, the Honourable Janet Austin, Lieutenant Governor of British Columbia, will present the Sovereign's Medal for Volunteers to 40 recipients at Government House, the ceremonial home of all British Columbians.
As an official Canadian honour, the Lieutenant Governor presents this medal on behalf of Her Excellency the Right Honourable Julie Payette, Governor General of Canada. This medal recognizes  the exceptional volunteer achievements of Canadians from across the country in a wide range of fields. The recipients attending this ceremony come from all over British Columbia, with diverse backgrounds and areas in which they have focused their volunteer efforts.
You can watch a live stream of the ceremony here.
The Medal for Volunteers incorporates and replaces the Governor General's Caring Canadian Award, created in 1995, by then-governor general Roméo LeBlanc. The medal builds on the legacy and spirit of the Caring Canadian Award by honouring the dedication and commitment of volunteers.
The Chancellery of Honours, part of the Office of the Secretary to the Governor General, administers the program and receives all nominations. Each one is carefully researched and then reviewed by an advisory committee, which makes recommendations to the Governor General. The selection process is non-partisan and merit-based. Presentation ceremonies are held throughout the year, in communities across Canada.
Do you know someone worthy of a nomination? Any person who is a Canadian citizen and who has made significant, sustained and unpaid contributions to their community in Canada or abroad is eligible. Candidates must have demonstrated an exemplary commitment through their dedicated volunteerism. The medal is awarded to individuals only, not to groups or couples. Non-Canadians are eligible if their contributions have  brought benefit or honour to Canadians or to Canada.
There is no deadline for submissions. Nominations are accepted on an ongoing basis throughout the year. You can submit a nomination here.
Recipients receiving medals at Government House on September 6, 2018, are as follows:
Gordon Barrett – North Vancouver
Gordon Barrett has proudly served his community for over 30 years. His volunteer commitment to military and spiritual affairs has helped countless individuals in times of need, bringing Lower Mainland communities together through his work as a regimental piper.
Curtis Becker – Victoria
Curtis Becker goes beyond his duties as a volunteer with the Juan de Fuca Scout group. He has  dedicated the last 13 years to finding different ways to help youth become engaged citizens of society.
Commander Peter Betcher – Nanaimo
A long-serving volunteer with the Royal Canadian Legion and the Navy League of Canada, Peter Betcher has given much of his time to engaging youth and supporting veterans across
Vancouver Island.
Bonnie Blackhall – Campbell River
Bonnie Blackhall has been volunteering with the Opportunities Career Services Society and other organizations for over 30 years. Through the Community Volunteer Income Tax Program,
she has spent over a decade putting her degree in social work to good use by helping low income couples receive their tax benefits.
Robert Bowes – Burnaby
Since his retirement in 2012, Robert Bowes has been a volunteer with MOSAIC, a registered charity serving immigrant, newcomer and refugee communities in Greater Vancouver. He gives
of his time as a career and social mentor, and teaches English and participates in fundraising activities.
Carl Brownell – Chilliwack
In addition to serving for four decades with the local branch of the Royal Canadian Legion, Carl Brownell has spent considerable time speaking with students about remembrance. He played a
key role in erecting the Piper Richardson Memorial Statue in Chilliwack in 2003.
Erick Carreras – New Westminster
Erick Carreras is an undergraduate student and active volunteer at the University of British Columbia. As the co-president of Undergraduate Research Opportunities, he co-ordinated
networking and educational events, and was instrumental in founding the Research Experience (REX) program. He served as co-chair of the organizing committees for conferences on global
health and research.
Nina Graham – Richmond
Nina Graham has been a dedicated volunteer in her community for nearly three decades. In addition to helping with Canadian Blood Services donor clinics, she is a fitness instructor at the
YMCA and a Green Coat ambassador at the Vancouver Airport.
Douglas Harrison – Chilliwack
Dividing his time among several organizations, notably the Kiwanis Club and the local branch of the Royal Canadian Legion, Douglas Harrison has demonstrated a relentless dedication to
service over the past 30 years.
Shirley Hickman – Comox
Shirley Hickman's involvement in the community dates from the 1970s, and includes many local and provincial organizations. In 2002, she founded Threads for Life, which supports workers
and families who have been affected by a workplace tragedy.
William Higdon – Chilliwack
A dedicated supporter of seniors, veterans and youth, William Higdon has been with the local branch of the Royal Canadian Legion for nearly two decades, and served as its president for
eight years. He helped organize a Wounded Warriors Canada Weekend in Chilliwack in 2015, and is involved with the local army cadet corps.
Marco Iannuzzi – Surrey
Besides being a professional athlete, an investment advisor and a family man, Marco Iannuzzi has volunteered as a charity auctioneer and board member for such organizations as Sources
BC, Els for Autism, the MS Society of Canada, Bring Back Hope, and The Whistler Invitational.
Robert (Bob) Irvine, CD – North Vancouver
Prior to being commissioned as a cadet instructor cadre officer, Robert Irvine volunteered as an instructor in first aid and judo wrestling. He also researched the history of the 18 army, navy
and air cadet units in North Vancouver, and used his carpentry skills to help with community school projects.
Liz (Kathleen) Jones – 108 Mile Ranch
Over the past 15 years, Liz Jones has been the local coordinator for the Emergency Support Services of 100 Mile House. During the 2017 wildfires, she led her dedicated team of volunteers
by example and ensured that evacuees had access to temporary shelter, food and clothing.
Sargie Kaler – North Vancouver
Sargie Kaler has been a Community Volunteer Income Tax Program co-ordinator at the Akali Singh Sikh Society Family Resource Centre for the past 11 years. She promotes gender equality
as a board member of the India Mahila Association, and as a volunteer with the Vancouver Rape Relief and Women's Shelter, and the Collingwood Counselling Centre.
Louis Legal – Sechelt
Louis Legal has been a member of the Community Volunteer Income Tax Program for 20 years. A retired meteorologist, he continues to promote environmental responsibility as a director of
the Sunshine Coast Clean Air Society and by writing articles for the Sunshine Coast Conservation Association.
Jeffrey Lott – Nanaimo
Jeffrey Lott has been an honorary aide-de-camp to four of British Columbia's lieutenant governors since 1999. Over the past five years, he has helped save lives as a courier with the
British Columbia Children's Hospital and with the Bruce Denniston Bone Marrow Society. His work with the society sends him around the world to pick up donated stem cells and bone marrow for transplants.
John Malcolm MacFarlane – Qualicum Beach
Since 1976, John MacFarlane has documented Canada's nautical history through the creation of The Nauticapedia Project, an online information portal featuring more than 57,000 biographies
and close to 51,000 Canadian vessel histories. His project ensures this nautical heritage will be accessible for generations to come.
Jennifer Martin-Blatherwick – Coquitlam
Jennifer Martin-Blatherwick motivates children to develop critical thinking and creative problem-solving skills. In addition to serving as director of Odyssey of the Mind BC, the flagship
program of the Creative Problem Solving Society. She is the coach of two teams at Rochester Elementary school.
Gerald McGladrey – Chilliwack
A long-serving volunteer with the local branch of the Royal Canadian Legion, Gerry McGladrey has put his culinary skills to use for nearly 20 years, serving meals for numerous legion events
and fundraisers. He has supported minor hockey teams for two decades.
Jeannette Mergens – Kelowna
Jeannette Mergens is committed to improving child care and to reducing poverty and homelessness. She has been a representative of the Community Action Towards Children's
Health and a member of the British Columbia Poverty Reduction Coalition. She has been involved in the Child Poverty campaign and the Aging Out Of Foster Care project.
Alexander Muir – Victoria
Alex Muir has dedicated his time to supporting marine safety in Oak Bay and Victoria over the last 35 years. As a board member with the Canadian Marine Rescue Auxiliary and Oak Bay Sea
Rescue Society, he ensured these organizations had the funding and expertise needed to make a difference in his community.
Dale Parker – Vancouver
Dale Parker supports the activities of a number of charitable and community-based organizations, serving as a board member of the Kidney Foundation of Canada and of the BC Cancer Foundation. He dedicated nearly 20 years to raising money for medical research.
Peter Pereversoff – Castlegar
Peter Pereversoff has volunteered with the Tarrys Volunteer Fire Department for over 15 years. One of the first people to sign up for any fundraisers or training, he is always available to help
someone in need, often using his own vehicle and first responders' emergency kit to assist accident victims.
William Pollock – Revelstoke
William Pollock has been a Canadian Executive Service Organization volunteer for over 17 years, sharing his knowledge as a professional forestry engineer and outdoor eco-tourism entrepreneur with international partners and Indigenous communities in Canada. In Honduras, he helped to equip the government with the skills to prevent pine beetle infestations. He also works with local leaders to establish and revitalize the forestry industry throughout the nine communities of the Matawa First Nations.
Cindy Postnikoff – Kimberley
Cindy Postnikoff has seen how debilitating post-traumatic stress disorder (PTSD) can be for Canadian Armed Forces members returning from overseas deployments. She formed Military Ames, a support group for veterans, and continues to devote her time, energy and financial resources to honouring and helping former military personnel affected by PTSD.
Surinderpal Rathor – Williams Lake
Surinderpal Rathor has been with the Community Volunteer Income Tax Program for 40 years in addition to volunteering with the City of Williams Lake and the Indo-Canadian community.
He participates in public fundraising events, has been a member of the local health board, and founded the Community Policing Committee.
Ron Rice – Victoria
A long-time supporter of the British Columbia Association of Aboriginal Friendship Centres, Ron Rice has provided significant aid and advice to Indigenous communities throughout the province as an advisor, mentor and coach.
Magdi Rizkallah – Richmond
As a former program and project manager, Magdi Rizkallah uses his management and technological skills to help grassroots organizations around the world. For the past five years, he has invested hundreds of hours into training the project staff and volunteers of PeaceGeeks, a global, non-profit volunteer organization.
Robert Sharpe – Mission
A tireless and exemplary volunteer, Robert Sharpe has dedicated more than 50 years to fundraising and volunteering for his local legion branch. He also conducts several talks with students during Remembrance Week on the meaning of commemoration.
Steve Smith – Victoria
For the last 20 years, Steve Smith has gone over and beyond as a reserve constable for the Saanich Police Department. He was the first reserve constable to represent the Saanich Police
Department in the Tour De Rock cycling event where he raised almost $15,000 for pediatric cancer research.
Robert Hock Sun Tan – Burnaby
Robert Hock Sun Tan has been involved with community organizations for over 10 years, giving much of his time to the Royal Canadian Legion and the Knights of Columbus. His fundraising
efforts have led to the distribution of wheelchairs, eyeglasses, medical supplies and hot meals to those in need.
Garth Vickers – Kelowna
Celebrated for his ability to bring out the best in his athletes, Garth Vickers has demonstrated outstanding leadership as coach at all competitive levels with the Special Olympics for nearly two decades.
Shawn Wade – Burnaby
For decades, volunteering has been Shawn Wade's calling. He has dedicated his time as a civilian instructor with the cadet movement and as an active member of the Burnaby Flatlands  Preservation Society, the Simon Fraser University Senate and the Royal Commonwealth Society.
Devin Warwick – Cobble Hill
Devin Warwick joined the Victoria Reserve Program in 2008, and has devoted over 3,000 hours to his duties, ensuring the reservists fulfill their roles at public events. He has also volunteered
with other local groups, including the Oak Bay Search and Rescue team.
Jim Watson – Mission
Jim Watson devotes countless volunteer hours to creating a better quality of life for individuals in need of assistance. He has raised funds and awareness as a board member of the Rick Hansen Foundation for over 20 years and has been involved in such organizations as KinCanada and Rotary International.
Marcus Wong – West Vancouver
Marcus Wong has been giving back to the community for more than a decade through his involvement with his church, his alma mater and the Richmond Art Gallery. His commitment to the West Vancouver Track & Field Club has enabled its membership to grow and has given the club the important role it has within the community.
Terri-Lou Woods – Abbotsford
For nearly 30 years, Terri-Lou Woods has volunteered with the Central Fraser Valley Search and Rescue Society, saving lives and ensuring British Columbians are educated and prepared in the
event of an emergency or accident, while enjoying the great outdoors. People of all ages have benefited from her commitment and passion for outdoor safety and emergency preparedness.
Terry Yung – Vancouver
Terry Yung has spent the last 20 years dedicating his time and skills to a wide variety of causes, including S.U.C.C.E.S.S., Big Brothers of Greater Vancouver, the Vancouver Cambie Lions Club
and the Jewish Federation of Greater Vancouver. His contributions have ensured that new Canadians fulfill their professional aspirations, that youth have opportunities to become future
leaders, and that neighbourhoods are safer and more connected.
Donna Ziegler – Terrace
For more than 40 years, Donna Ziegler has volunteered with community, provincial and national organizations, namely the Heart and Stroke Foundation, the Rotary Club and her church. When the school's music program faced funding cuts, she started the Dare to Dream Foundation, so students could participate in music classes and the school band.