Marine Plan Partnership for the North Pacific Coast
The British Columbia Reconciliation Award recognizes extraordinary individuals and organizations who have demonstrated exceptional leadership, integrity, respect, and commitment to furthering reconciliation with Indigenous peoples in the province of British Columbia, or inspired others to continue reconciliation efforts. Learn more about the BC Reconciliation Award recipients.
The north Pacific coast covers more than 100,000 km2 of British Columbia's coastline, extending from northern Vancouver Island to Canada's border with Alaska, from shore to the continental slope. The sheer scale of this coastal region is reflected in the ambitious nature of the Marine Plan Partnership, known as MaPP. A globally unique partnership between seventeen First Nations and the Province of British Columbia, MaPP has created a platform for Reconciliation built on commitment to collaborative governance. The shared vision and use plans of MaPP for the four sub-regions of the North Pacific Coast (North Vancouver Island, Central Coast, North Coast and Haida Gwaii) and its Regional Action Framework integrate traditional, local, and scientific knowledge with ecosystem integrity and human well-being.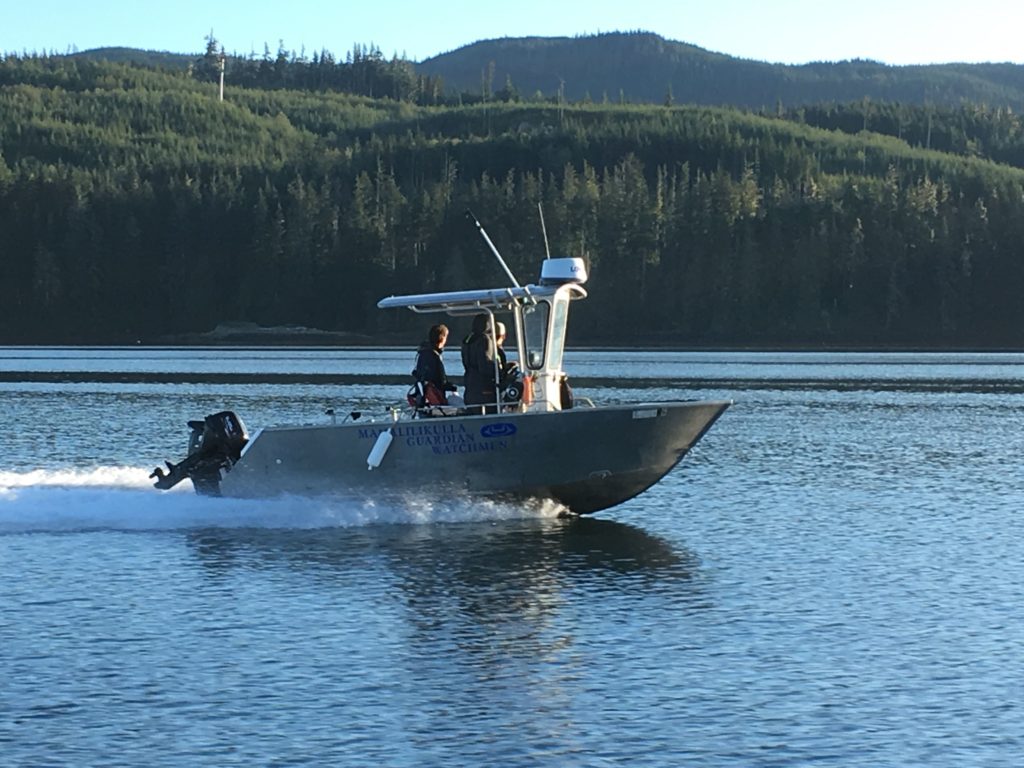 Key to the success of MaPP has been careful alignment with the principles of the United Nations Declaration on the Rights of Indigenous Peoples and the desired outcomes under BC's recently enacted legislation. MaPP's earliest actions on Reconciliation were inspired by the internationally recognized landmark conservation and land use agreements for Haida Gwaii and the Great Bear Rainforest. In 2011, a historic Letter of Intent was signed by the provincial government and the organizations representing seventeen First Nation governments. The letter outlined joint governance, management structures, and processes for collaborative marine planning, as well as a commitment to joint implementation of collaboratively developed marine plans. This letter was an important first step down a path for Reconciliation in partnership.
This initial commitment bloomed into working relationships, both formal and informal, between First Nations and provincial representatives. In 2015, partners involved in MaPP held a historic signing ceremony at the BC Legislature in Victoria, celebrating the completion of planning for the North Pacific Coast sub-regions, the culmination of four years of collaboration, co-governance and shared decision-making. In 2016, confidence in the project was strengthened with the signing of agreements to co-lead implementation of marine plans and the regional action framework. It was a clear indication the meaningful incorporation of traditional knowledge, use of best available science and collaborative monitoring and data collection for marine resource management would contribute to the longevity of the model. MaPP has continued with success over the five years since, despite many political, economic and social changes that have taken place during that time, and now the partnership is planning ahead to the next fifteen years with renewed resources.
The MaPP approach balances consistent practices alongside recognition of the unique approaches of the First Nations communities located within MaPP's sub-regions. From northern Vancouver Island to Haida Gwaii, relationships with MaPP have been carefully and thoughtfully cultivated, leading to an improved understanding of cultural values and interests. This in turn has led to advancing Reconciliation through dialogues on important resource management issues affecting the broad group of stakeholders. MaPP is proof of how marine resource management and decision-making can be enhanced by Indigenous knowledge and practices. The model is now being used in other planning and management processes provincially and internationally, a point of pride for the MaPP Partners.
Throughout the years, MaPP has proven its ability to support a shared journey towards Reconciliation. "The Marine Plan Partnership is a great example of Reconciliation and work that transforms the government-to-government relationship," says BC Reconciliation Award juror Nicole McLaren. "To have it mapped out in a constructive and positive manner with co-management is a powerful thing." Recognition of MaPP through the BC Reconciliation Award further demonstrates the value of open and honest dialogue and respectful approaches to finding solutions that can further Reconciliation for communities. The additional investment in communities by MaPP supports youth programs, with opportunities to interact with Elders and mentors to engage in contemporary and traditional-use activities and stewardship of the marine environment, charting a path for a renewed future for coastal First Nations.