xaȼqanaǂ ʔitkiniǂ
(Many Ways of Doing the Same Thing) Research Team
The British Columbia Reconciliation Award recognizes extraordinary individuals and organizations who have demonstrated exceptional leadership, integrity, respect, and commitment to furthering reconciliation with Indigenous peoples in the province of British Columbia, or inspired others to continue reconciliation efforts. Learn more about the BC Reconciliation Award recipients.
When it came to developing a community-driven and culturally informed approach to decolonizing relationships between health systems and Indigenous Nations, the xaȼqanaǂ ʔitkiniǂ (Many Ways of Doing the Same Thing) research team recognized early on that commitment to respectful engagement and co-learning would be crucial to success. A truly reciprocal partnership between the Ktunaxa Nation Council, Interior Health, the University of Victoria and later the University of British Columbia took shape, founded on mutual goals of understanding and implementing what Reconciliation means and looks like for the Ktunaxa Nation. The xaȼqanaǂ ʔitkiniǂ team is committed to supporting the Ktunaxa Nation's vision for community health, while redefining and dismantling colonial "health system expertise" and leveraging partnerships to co-design solutions that promote better outcomes for all.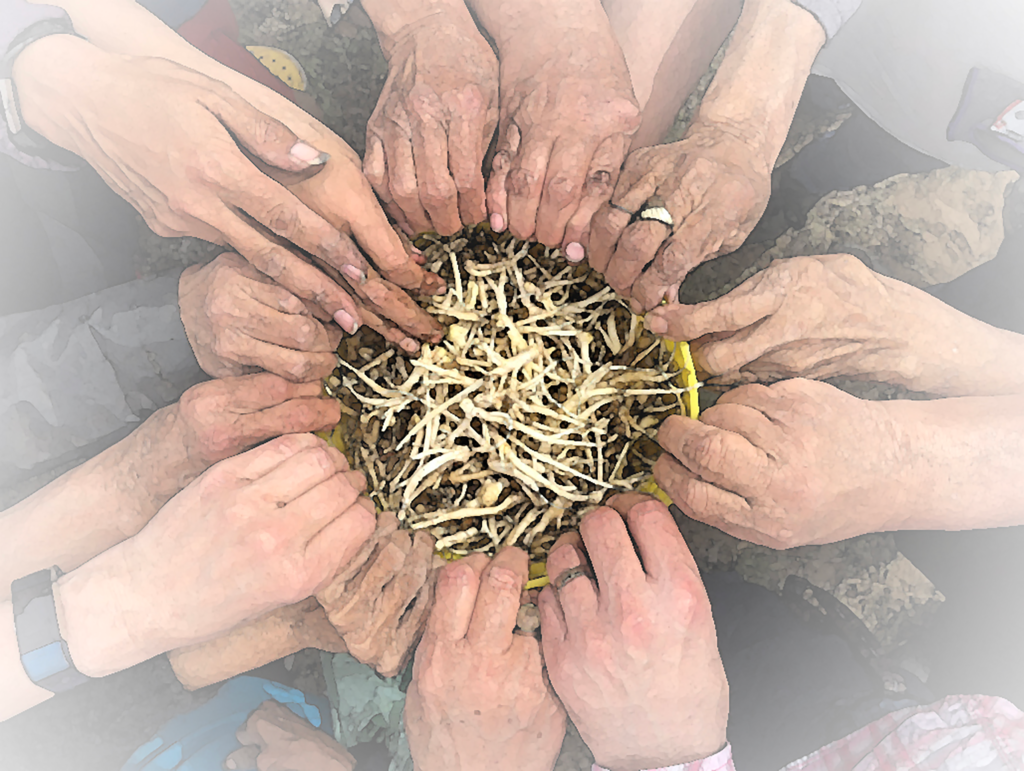 Through expertise shared by Ktunaxa Elders and Knowledge Holders, the xaȼqanaǂ ʔitkiniǂ team came to understand the definition of colonization as "the process of forcefully removing and disconnecting people [from land, culture, identity, community, and problem-solving resources]", while Reconciliation is a process of re-connecting. This concept of connecting would emerge again and again; in their earliest meetings with the Ktunaxa Nation, it became clear the project must be rooted in local knowledge. In order to name the project, the xaȼqanaǂ ʔitkiniǂ research team joined Ktunaxa Elders to engage in a deep dive of the nuances of Ktunaxa language, millennia-old problem-solving methodologies, and cultural knowledge. In bearing witness to these practices, the xaȼqanaǂ ʔitkiniǂ research team found organic and meaningful inspiration in how to move forward with their work. The Elders consulted became the xaȼqanaǂ ʔitkiniǂ Advisory Group, and their ongoing generous guidance ensures research is conducted with honour and respect of cultural protocols, local expertise and the Ktunaxa language.
Dr. Christopher Horsethief, project co-lead and Ktunaxa scholar, explains that "a healthy community must be able to solve problems, and access, preserve and share cultural knowledge across time and space." Building capacity for the revitalization, restoration and documentation of traditional Ktunaxa Nation knowledge systems and research processes has been of the utmost importance. This has taken the form of community gatherings and events, honoraria, scholarships for students, hiring local research assistants, and commissioning Ktunaxa artists to create artwork that capture themes around community wellness.
In May 2019, during one of the xaȼqanaǂ ʔitkiniǂ team's visits to community, non-Ktunaxa team members had a rare opportunity to participate in digging for bitterroot, a culturally significant community activity usually not open to non-Ktunaxa people. The bitterroot harvested was later prepared as part of a feast, served during a Ceremonial Recognition to share findings and celebrate progress. This moment was captured in a team photo depicting the hands of Elders and team members holding a bucket of bitterroot, a visual embodiment of Reconciliation in coming together, exchanging cultural knowledge, and connecting through a shared activity.
The type of work being done by the xaȼqanaǂ ʔitkiniǂ team is often at odds with the ways current institutional systems are designed to reward and support health research work. The team's collective ability to navigate the barriers of this system, while staying true to their work and purpose, has been reflected in a successful Canadian Institutes of Health Research project grant; one reviewer noted, the proposal itself is a teaching tool for reviewers. "The issue of health is uppermost in all of our minds and we ask how do you change the system? This project incorporates everybody: universities, experts and First Nations," says Kekinusuqs, Dr. Judith Sayers, BC Reconciliation Award juror. "It involves a co-creation of knowledge while bringing together two systems and showing the value Indigenous knowledge brings to a system." Being recognized with a BC Reconciliation Award is yet another step towards legitimizing and centering the xaȼqanaǂ ʔitkiniǂ team's way of working as equally robust, fundable and impactful.
"We are profoundly grateful to Ktunaxa Nation for trusting us, correcting us, and teaching us so that we can walk this journey together," says Dr. Sana Shahram, project co-lead and Assistant Professor at UBC. "It is never lost on us what a privilege it is to be welcomed into this work and we hope to continue doing this work together and in a good way for many years to come."
Learn how to pronounce "xaȼqanaǂ ʔitkiniǂ" in the Ktunaxa language in this lesson from Dr. Christopher Horsethief, project co-lead and Ktunaxa scholar.