Last Post Fund – BC Branch
The British Columbia Reconciliation Award recognizes extraordinary individuals and organizations who have demonstrated exceptional leadership, integrity, respect, and commitment to furthering reconciliation with Indigenous peoples in the province of British Columbia, or inspired others to continue reconciliation efforts. Learn more about the BC Reconciliation Award recipients.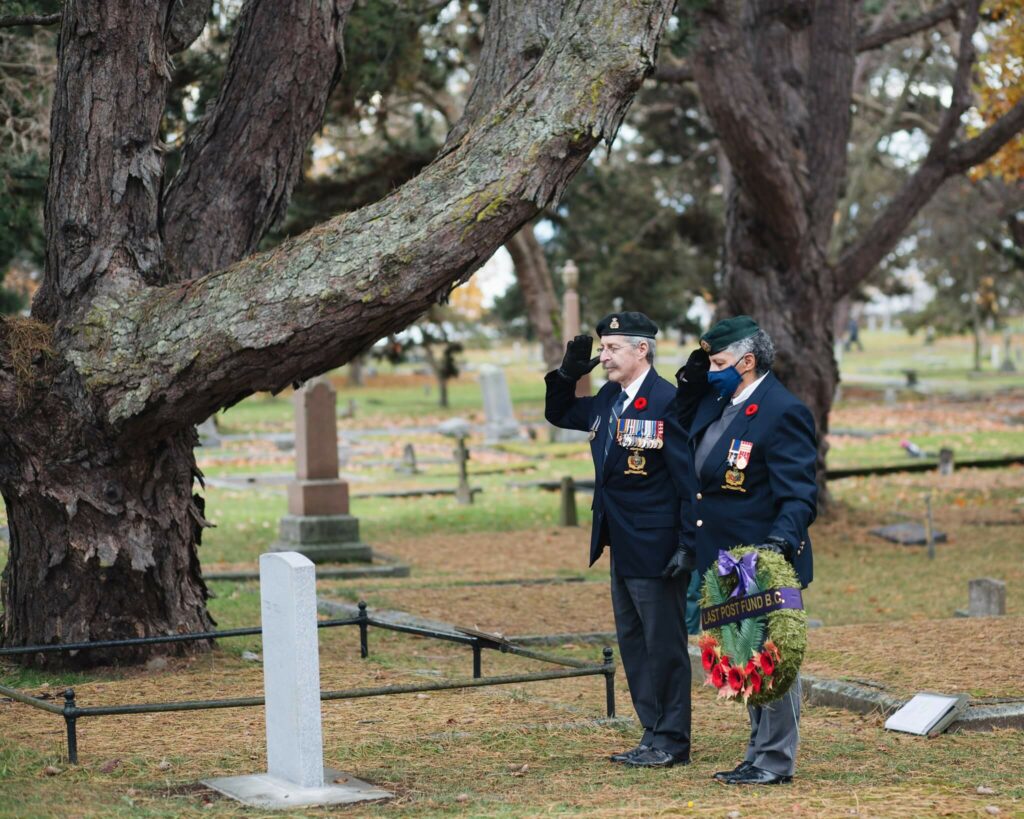 The Last Post Fund (LPF) is dedicated to ensuring that no Veteran is denied a dignified funeral, burial, or military gravestone due to insufficient funds at the time of their death. Over 18,000 Indigenous Veterans served in the Canadian Armed Forces (CAF) in World War I, II, the Korean War, Afghanistan and other peace keeping missions – often receiving minimal benefits while facing discrimination when they returned home. In March 2019, LPF established the Indigenous Veteran Initiative (IVI) as part of its mission and in alignment with the efforts of the federal and provincial governments towards reconciliation and building a renewed relationship with Indigenous peoples. This initiative aims to commemorate and honour Indigenous Veterans by addressing two key components: the Unmarked Grave component and the Traditional Name Marking component.
The Unmarked Grave Component focuses on providing grave markers to Indigenous Veterans who have been buried without an existing tombstone. These efforts make certain that their resting places are properly recognized and marked while preserving their memory and contribution. The Traditional Name Marking component acknowledges that some Veterans' names were changed in residential schools or omitted on their military papers. LPF/IVI takes on the responsibility to add the Veteran's traditional name to any existing tombstone placed by Last Post Fund, ensuring the acknowledgement of their identity and heritage.
LPF/IVI collaborates with researchers who are either Indigenous Elders or former CAF members working alongside Elders. These researchers follow specific protocols when engaging with Elders, respecting the cultural and community requirements. The involvement of Elders is crucial as they possess valuable knowledge and information about deceased Indigenous Veterans and their histories. The initiative is significant where resources are limited for grave markers. Often, grave sites may only have a wooden marker as a tombstone which has deteriorated over time, leaving the grave unmarked. The LPF/IVI strives to ensure that all Indigenous Veterans receive a proper military marked tombstone, symbolizing their service, sacrifice and commitment to their community.