Klith-waa-taa, Dr. Barney Williams
The British Columbia Reconciliation Award recognizes extraordinary individuals and organizations who have demonstrated exceptional leadership, integrity, respect, and commitment to furthering reconciliation with Indigenous peoples in the province of British Columbia, or inspired others to continue reconciliation efforts. Learn more about the BC Reconciliation Award recipients.
Klith-waa-taa, Dr. Barney Williams, a hereditary leader from the Tla-o-qui-aht First Nation of the Nuu-chah-nulth Nation, is renowned for his expertise in Indigenous healing and counselling. Fluent in the Nuu-chah-nulth language, he integrates traditional teachings into his work, particularly in the realm of mental health. Throughout his career, Barney has held notable positions as an executive director and social service administrator, specializing in counselling areas that encompass youth, community prevention, crisis intervention, and addictions. His contributions include the establishment of a ground-breaking counselling program for Indigenous peoples at Vancouver Island University. The program served as a model for the integration of traditional healing knowledge with Western approaches, marking a crucial step towards holistic and culturally responsive care.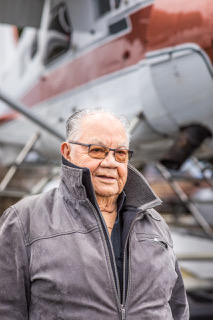 From 2008 to 2015, Barney played a vital role as a member of the Survivor's Committee for the Truth and Reconciliation Commission (TRC), offering cultural and spiritual guidance. As a survivor, counsellor, and leader, Barney's knowledge and personal experiences informed the TRC's work. As the Elder in Residence, he offered constant support to the TRC staff, and his contributions have been recognized and celebrated by many institutions. In 2017, he received an Honorary Doctorate in Laws from the University of Victoria, acknowledging his exceptional achievements.
Barney actively encourages personal growth, drawing from his own journey to sobriety. Recognized with the 2022 Courage to Come Back Award, he collaborates closely with First Nations communities, deepening the understanding of addiction and trauma therapy. Barney creates a safe space for survivors to share their stories, preserving the history of residential schools and promoting healing within Indigenous communities. Through reconciliation initiatives, decolonization advocacy, and empowering Indigenous students, Barney embodies Indigenous resilience, inspiring cultural reconnection through community engagement.