Grand Chief Stewart Phillip
The British Columbia Reconciliation Award recognizes extraordinary individuals and organizations who have demonstrated exceptional leadership, integrity, respect, and commitment to furthering reconciliation with Indigenous peoples in the province of British Columbia, or inspired others to continue reconciliation efforts. Learn more about the BC Reconciliation Award recipients.
Grand Chief Stewart Phillip has dedicated his life to defending Aboriginal Title and Rights, achieving Reconciliation and self-determination for BC First Nations. A member of the Penticton Indian Band Council for 24 years and Chief for 16 years, he is currently serving his eighth, three-year term as the President of the Union of BC Indian Chiefs (UBCIC).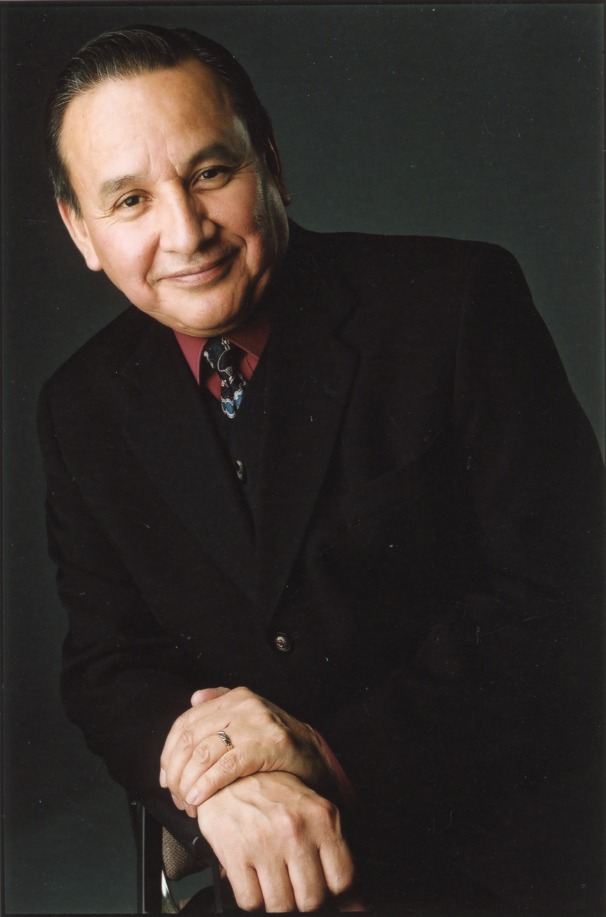 "I know firsthand [Grand Chief Phillip's] unique and singular contribution to Reconciliation in British Columbia," says the Honourable Jody Wilson-Raybould. "He has stood on principle, held up Indigenous Nations and peoples across the province, and educated British Columbians of all backgrounds on how to advance true Reconciliation."
Grand Chief Phillip has fought to ensure governments stay their course in their efforts to achieve Reconciliation for First Nations, and worked with other Indigenous organizations, including the First Nations Leadership Council (FNLC), to engage with provincial and federal governments on key issues for First Nations, including, but not limited to, the recognition and implementation of First Nations Title and Rights; ending violence against Indigenous women and girls; implementing the National Inquiry's Calls for Justice; enshrining the United Nations Declaration on the Rights for Indigenous Peoples in provincial and federal legislation; establishing a game revenue sharing agreement for BC First Nations, and protecting the rights and welfare of First Nations from industrial and energy projects that infringe upon their territories and lands.
"Grand Chief Stewart Phillip has devoted his life work to improving the lives of our peoples," says BC Reconciliation Award juror Chief Sophie Pierre. "His words: 'if we don't do the work, our grandchildren will have to' has guided him and ensured a better future for all, and we thank him."
Grand Chief Phillip has helped critique, shape, and advance landmark legislation and policies that work to bridge cultural and ideological divides and rectify the wrongdoings of Canada's colonial governance. He played a seminal role in the passage of the Bill 41 into the Declaration on the Rights of the Indigenous Peoples Act. His advocacy and work as part of the FNLC to pass the provincial UN Declaration legislation paved the way for future agreements between the provincial government and BC First Nations. In addition, Grand Chief Phillip is a founder of the Indigenous Youth Internship Program (IYIP) in partnership with the BC government and works alongside the UBCIC Youth Representative, the UBCIC Women's Representative, and the UBCIC Elder's Representative to promote the equality and well-being of Indigenous women and youth in BC.
"[Grand Chief Phillip's] greatest enduring legacy and achievement is that he lives his values," says the Honourable Jody Wilson-Raybould. "This is what great leaders always do. They exemplify in their actions and patterns of living the principles they preach to others. Stewart treats others the way he tells us we must be to reconcile. He is patient, kind, understanding, principled, uncompromising (in the best of ways), and willing to listen and learn. Reconciliation is about truth, equality, and justice– and that is how he treats all human beings he comes across. As such, he is an example of Reconciliation in action, from whom we learn, and of which we need many more."